As its name suggests, Bluewater Cowboy is a convergence of land and sea. BWC, as friends and patrons affectionately know it, serves steak, sushi and most everything in between. Overlooking the coastal town of Port Aransas, the three-story concept offers a casual dining experience with an expansive menu and live music to Port A locals, visiting families and event guests.
"I haven't tried anything here I don't like," pronounces Taylor — the mixologist on shift — from behind the bar, fashioned out of a converted sport fishing boat built by the owner himself. The nautical setup is outfitted with impressive deep-sea fishing rods and reels and lined with everyone's favorite liquors. A few of Taylor's favorite menu items include the chopped steak, tempura fried broccoli and Alan's pesto pasta.
Brian — chef, kitchen manager and veteran of the restaurant business — beams as he sets a steaming plate on the table. He uses his lobster bisque as the base for his crowd-pleasing lobster pasta, a time-saving step that ensures the favorite entrée is perfectly seasoned every time.
Turns out, this is one of many miracles Brian and his staff accomplish in the kitchen to create every plate made to order. "We won't even batter the fish until the order is placed," he said, which is a fine feat in today's faster food environment.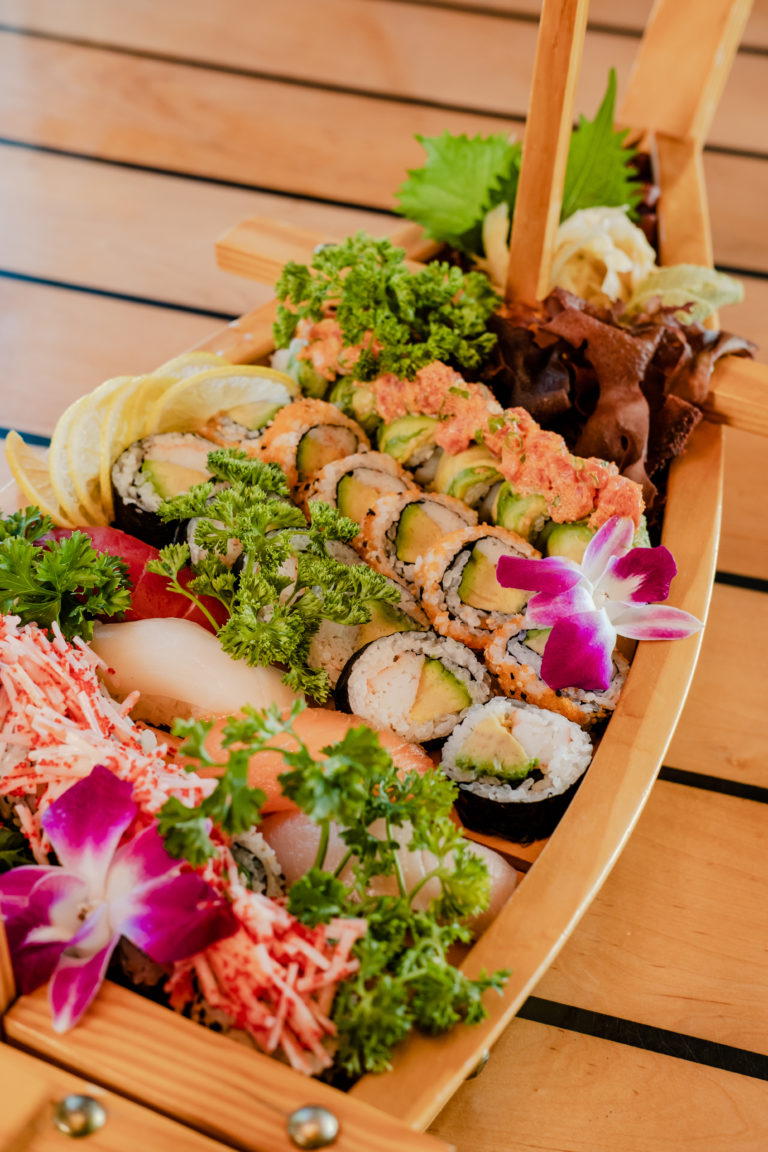 The lobster pasta is involuntarily-rolling-your-eyes good. A kick of cayenne and bell pepper counters the sweet lobster in a rich sauce. The wait staff joke that customers often change their order when they see BWC's lobster pasta or hand-crafted sushi emerge from the kitchen. Speaking of which, Dave — BWC's sushi chef — has returning patrons from all over the state of Texas. His original rolls are extravagant and creative, and he enjoys experimenting with flavors and hosting special events at the restaurant.
We recommend sopping up the last of the cream sauce with a remaining corner of parmesan garlic bread and finishing things off with a slice of white chocolate bourbon pecan pie from Snake Farm Pie Co.
After dinner, aid digestion with a stroll through the BWC's mercantile. Memorialize the trip with coastal home décor, a wayfarer button- down or merch branded with BWC's caricature of a cowboy ridin' a marlin.
Whether you love seafood or steak, are a young buckaroo or a retired ranchero, there's something at Bluewater Cowboy for you.
CONTACT: