It's 10:59 a.m. on a Saturday. There is a line out the door 12 people deep. One man in line has a cowboy hat and spits into a cup; the woman ahead of him is swaying her toddler back and forth. Finally, the door is opened and the herd moves as one past the sign that reads "Small Town, Big Barbecue," following the smell of oaky smoke into Butter's BBQ. 
The owner of Butter's, Andrew Soto, stands behind the tall counter and deftly carves thick slices of his signature brisket. Each beefy batch takes 18-20 hours to prepare. "We keep it simple with a simple seasoning of salt and pepper and a good slow smoke," he explains. The shipment of certified Angus beef brisket comes in on Wednesday, when it is trimmed and prepped by Butter's pitmaster Robert.
Post oak from North Texas is used to get the flavor and consistency of the smoke just right. "I tried so long looking for a magic recipe, and it doesn't exist." Soto's perfectly seasoned result, a thick crust of peppery salt encasing tender meat, is about as magical as brisket can get. 
Butter's, coined after Soto's childhood nickname Butterball, is also known for its barbacoa and homemade sides. The potato salad has a familiar taste — a balanced mixture of mayo and mustard, with a touch of dill pickle and celery. Its crisp cole slaw with poppy seed dressing is a reliable counter to the juicy, rich jalapeno sausage. Pickled onions and Mexican street corn are a welcome change from the standard barbecue accoutrement. 
This now-renowned barbecue joint had its fair share of challenges. Soto contemplated closing his doors when the small business had trouble making a profit. But word spread about Butter's exceptional barbecue, and by the end of 2018, it started selling out on the weekends. More attention came from its 2019 review in Texas Monthly. In 2021, Butter's was named as one of the magazine's Top 50 BBQ Joints.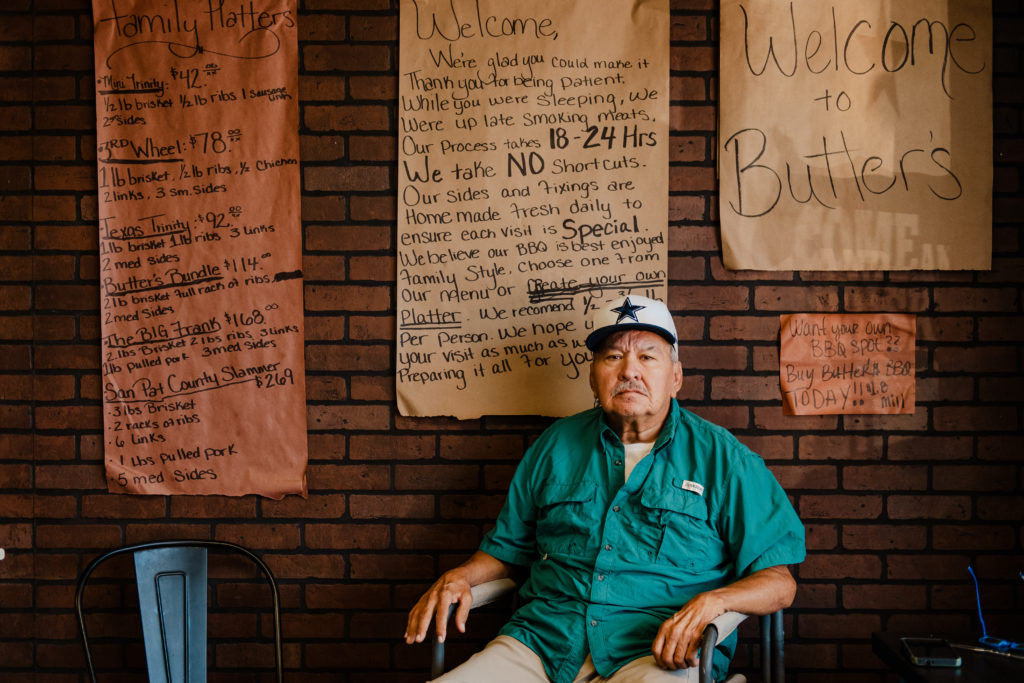 Andrew's love for cooking came from helping his dad, Marcelo Soto, with the family catering business when he was only a boy. His dad remembers, "I started in 1992 and just kept going.  Andrew was just a small kid and I used to get him up to help me cook." His dad was the first person Andrew told when he decided to leave a stable career to pursue his dream. 
Five years later, Butter's BBQ remains a family-run business. Marcelo still lends his expertise with large catering jobs and strategic business decisions. Soto's cousin manages Butter's, while his brother and nephew spoon pinto beans and Mexican rice onto plates at breakneck speeds. His brother in-law and sister keep the back of the house running. Soto says his late mother Frances was also a driver behind the restaurant's success. 
Butter's is making a name for itself in its new locale — open Friday through Sunday, the restaurant usually sells out long before the dinner rush. If you want outstanding barbecue from an exceptional local family, we recommend standing in line at Butter's before 2 p.m.
Looking for more Food + Drink? Check out Buen Provecho Offers Corpus Christi Street Tacos Made With Love.