The road into the arts was paved by the constant flux of inspiration unfurling around Jesus De La Rosa, both in his family and in the rich culture of the South Texas borderlands. The tradition of starting something from scratch and crafting it by hand was sewn into the fabric of his upbringing — much like the intricate designs he would watch his mother, a seamstress, conjure up in her dress shop.
"She had such an attention to detail," De La Rosa said, recalling the dry drawings his mother would make in preparation for wedding gowns, quinceañera dresses or her own clothing. "I really got that from my mom; she was always crafting or working on something."
From watching his mother sewing to his grandfather cooking up culinary classics as the chef at Arturo's in Nuevo Progreso, De La Rosa's path to a creative pursuit as a way of making a living was one imbued with endless support. When it came time for him to make his own way professionally, the choice to pursue a life in visual arts was a confident one.
After earning his Bachelor of Fine Arts at Texas A&M-Kingsville, De La Rosa embraced his burgeoning sensibilities through a range of mediums—painting, graphic design, screen printing — and the fluidity that came with having an open mind. While working as a graphic designer at the University of Texas Pan-American in the late 1990s, he took a leap of faith and opened a gallery next door to his mother's dress shop, in the hopes of cultivating a community for local artists at the border. This experience fueled a newfound sense of the opportunities and challenges associated with being an artist in an overlooked market like many of the creative pockets across Texas. The gallery stayed open until 2003, at which point De La Rosa went on to pursue a Master of Fine Arts at Ohio State University.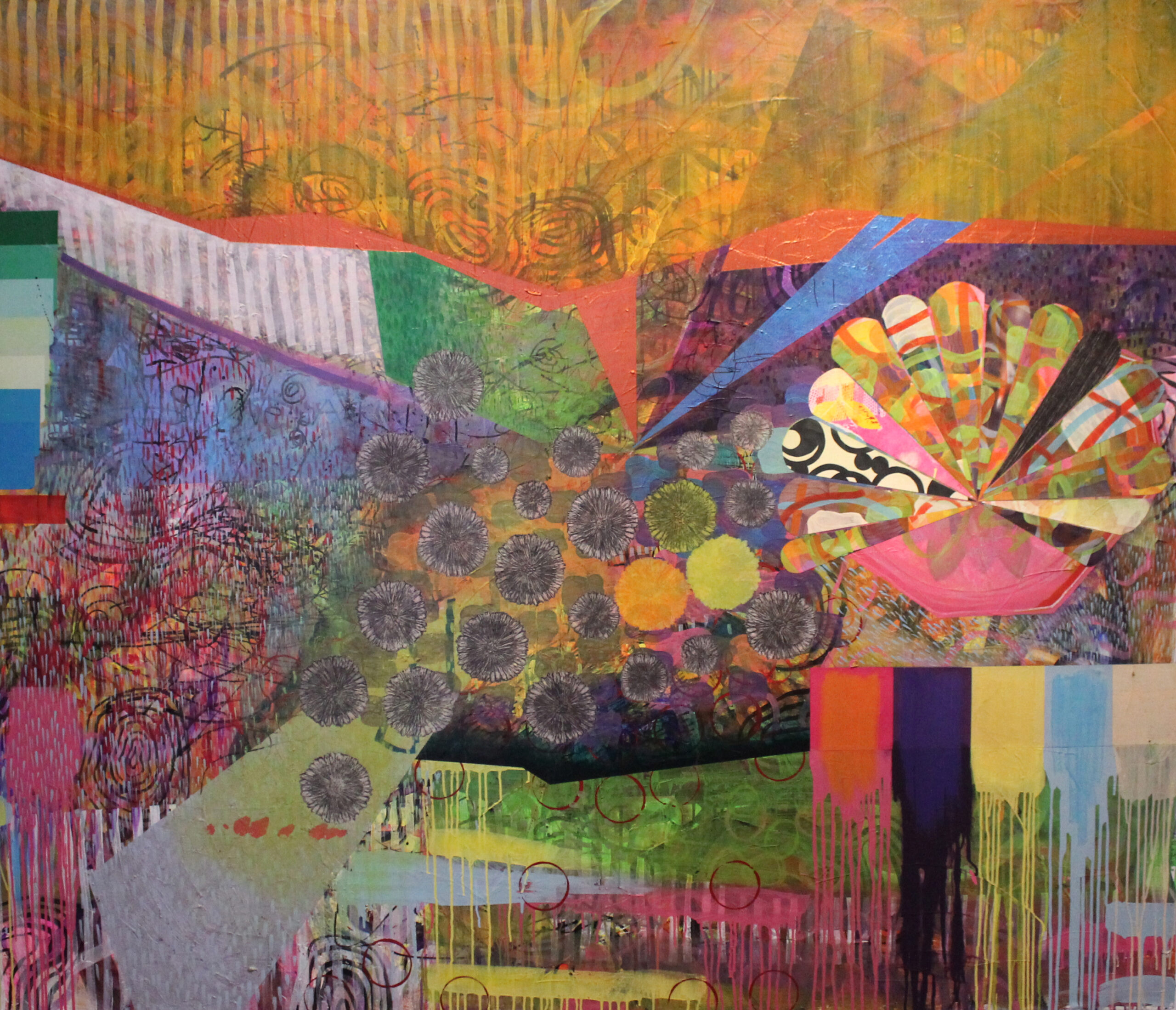 Today, his work encompasses the experiences he cultivates across the many intersections of identities: father, husband, teacher, caregiver, artist. "I'm all those things, but I'm also an artist [and] I never separate those things," De La Rosa said, explaining the lens through which he filters his world, his relationships and their influence on his work.
At first glance, his body of work includes paintings, silkscreen prints, lithographs and mixed media with bright, soaring colors and borderland iconography. Part of the artistic practice for De La Rosa, however, comes in the curation of everyday things — hours of footage from the daily commute to work, dozens of notes collected from his mother-in-law as she experiences dementia, childhood memories of seeing Diego Rivera murals on trips that were pure happenstance.
De La Rosa's work deftly explores the intersection of experience and craft; the fluidity of painting versus the precision of printmaking; the dual identity of being a Mexican-American artist in the borderlands between Texas and Mexico. With these dichotomies come room for discovery and exploration. "One of the things that attracted me to visual arts was that there were no restrictions, except what you put on yourself," he said. "I always tell my students, 'Give yourself permission to do stuff.' We have to give ourselves permission to be silly and imperfect."
Looking for more State of the Arts? Head here.