Thanks to modern technological advances, the surfing industry has moved toward prefabricated mass production of boards. However, there are a handful of surfers who prefer to savor the experience of making their own. Owning a hand-shaped board nowadays is not only an act of artistic appreciation, but also a point of pride — especially when the artisan is a woman. 
Three years ago, Emma Clarkson became interested in learning about the craft. She figured learning to shape would be a great way to combine her loves of creativity and surfing. As she began this journey, she realized two things: People were shocked to learn she made her own boards, and most people had never really considered women as shapers. 
"People would acknowledge that I made the art," she said, "but they wanted to know who shaped the board." 
Clarkson thought about ways to normalize the idea of female shapers, in addition to male shapers, in the community — and two years ago, she created the CC Lady Shapers. The Lady Shapers are cohorts of women, led by Clarkson, who work on the entire process of making their own boards, including shaping, sanding, painting and even glassing. 
"Shaping and glassing are two different skill sets," Clarkson said. "Most shapers will shape their boards, and then take them to a professional glasser, but these women do it all!"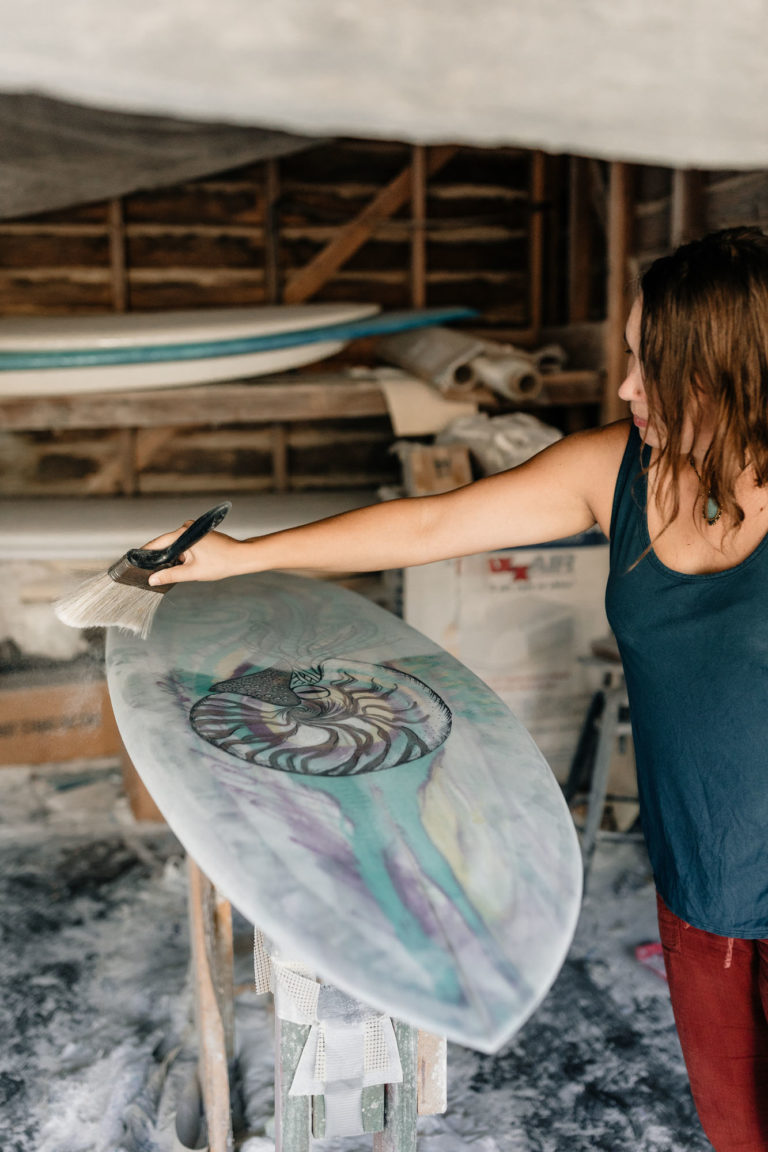 The first cohort consisted of a group of her friends, and from there, the organization quickly grew into clusters of local women reaching out in hopes of joining. Each cohort operates out of a shaping room Clarkson built in her garage; the ladies simply purchase their own materials and she provides the space, guidance and support along the way. 
Dara Frandsen, who has been working on her board since January of this year, acknowledges that shaping is a lot of work, but she is enjoying the transformation from the initial block of foam to an almost complete surfboard, and is excited to ride it. 
A new project can be intimidating, but another Lady Shaper, Kady Kreis, worked through it, especially once Clarkson walked her through the process. "I would definitely shape another board in the future," she said, and describes the experience as "enjoyable and empowering." 
Jena Floyd is enjoying the finished product and said, "knowing I made it with my own two hands, and then have it ride how I imagined it, is a pretty amazing feeling!" 
Shaping a board is not something Hannah Bueltel ever thought she could do, but the entire experience has inspired her to eventually create her own shaping room and spread that knowledge to other women. She particularly enjoyed learning how the shape affects the way a board rides.
Now, Clarkson floods her Instagram with photos of these women at work, and hopes this will not only show their dedication to their project, but also normalize female shapers in the surfing industry.