Co-owner of the stylish Rockport boutique Lady Captain, longtime clothing designer and a stylist with Edit Mode, Lauren Neal is a tastemaker with an eye for both quality and aesthetics. We asked the entrepreneur to share a couple of items and experiences she's currently loving this season–all of which are available locally in the Coastal Bend.
Recommendation:
The Vibe Facial
Where it's available:
TÓRA 
Why I love it:
I love this facial from Carissa at TÓRA, a local spa in Rockport, because it specifically caters to my exact skin care needs and is paired perfectly with the most relaxing elements that make the entire experience feel like a massage. It's truly the best facial I have ever had! I always leave feeling so refreshed and my skin glows for weeks afterward. 
Recommendation:
Natural Wine from Lucy's
Where it's available:
Lucy's Snackbar
Why I love it:
I'm not a big fan of sugary sweet wines, so a natural and organic vino is my go-to. Lucy's Snackbar has the best selection in Corpus! Co-owner Jessica Gignac thoughtfully curates the selection they offer in-store, and I love that you can purchase a bottle to enjoy outside in their parklet or take home for dinner with your honey. My current favorite has been any sort of pet-nat … not too sweet, super low in sugar and if you like a dry white, this is your new BFF. 
Recommendation:
Lady Captain Fishing Tunic
Where it's available:
Lady Captain
Why I love it:
I may be a little biased, but our Lady Captain Fishing Tunic is my go-to coverup for any seasonal festivities on the water. We focused on designing something for women to wear as a chic alternative to an oversized men's fishing shirt, and not only is it cute but it's breathable and comfortable as well. It's definitely the only fishing shirt or shirt dress you can find in a classic nautical stripe. I love pairing this with a solid white or black swimsuit and my favorite sandals.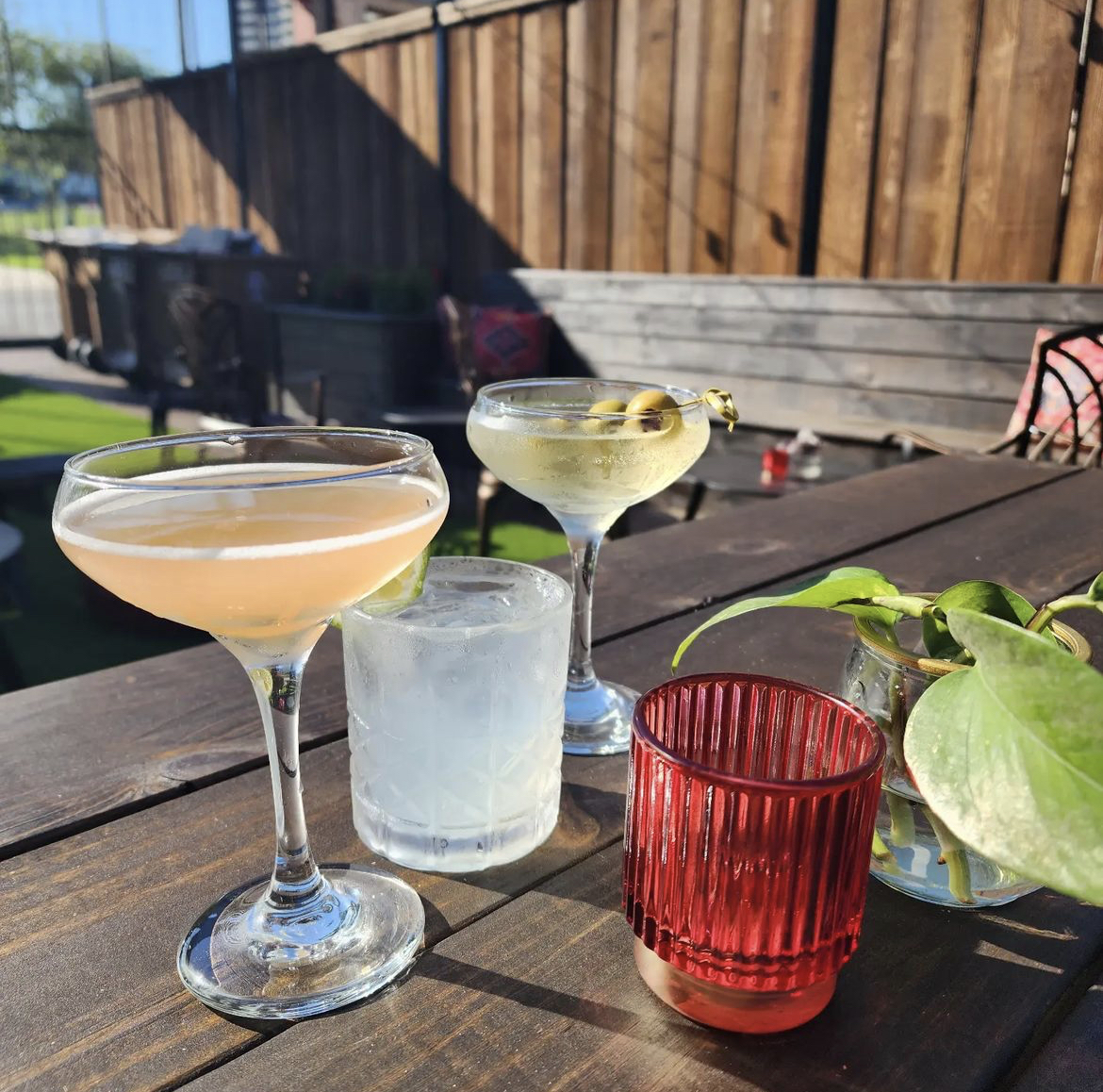 Recommendation:
The Monday Martini
Where it's available:
The Annex
Why I love it:
I love a dirty martini and co-owner Caitlin Shook has thrown a kick into an old classic with her Monday Martini at The Annex. First off, if you haven't visited this new cocktail bar in  Downtown Corpus Christi, you have to stop by. I've decided it's my new favorite date night spot, the vibe is perfect and this dirty martini with jalapeno is *chef's kiss.* 
Recommendation:
Date night at Lisabella's
Where it's available:
Lisabellas in Cinnamon Shores
Why I love it:
Lately, with my boyfriend and my busy schedules, we always try to make time for a sweet date night. When we aren't shelling on a Sunday or making dinner at home, we love to have a special night out and Lisabella's is the most romantic spot to treat yourself in Port Aransas. As a firm believer in mermaids, I definitely recommend the mermaid soup and crab cakes, of course. The ambiance is precious and as an Austin-now-coastal transplant, I always feel right at home with the well-designed decor and 10/10 menu. 
Recommendation:
Straw Hats from Sissy Light
Where it's available:
Sissy Light
Why I love it:
I found this brand while showing our clothing line in Round Top and was immediately obsessed. In a world with so many straw hats to choose from, Sissy Light provides an elevated take on a classic summer staple. I love her ribbon pairings and hatbands and style my hat with all of my favorite caftans and cut-offs. Want to shop Sissy Light in person in the Coastal Bend? Join us at Lady Captain for a pop-up happening SOON to top off your summer wardrobe! 
Recommendation:
Santal + Black Cardamom Candle
Where it's available:
ChillWax Candle Bar
Why I love it:
A house is not a home without a bunch of good candles. ChillWax Candle Bar is my go-to favorite in the Coastal Bend. Owner and creator Michelle Yankee's candles fill a room with just the right amount of fragrance and, as a sucker for anything santal, the Santal + Black Cardamom candle is a personal fav. Catch ChillWax at their next pop-up or shop in-store at Bub and Beck on the Southside of Corpus Christi. 
Recommendation:
Tennis Necklace by Hart Hagerty
Where it's available:
Lady Captain 
Why I love it:
I'm known to be one to accessorize (and over-accessorize) but my current summer stacking staple is the tennis necklace by Hart Hagerty. We just started selling this Charleston-based brand at LC and I have styled it with so many things from turquoise strands to my usual gold layering pieces. The price point is great and a perfect solution for traveling without bringing your keepsake diamonds. 
Recommendation:
Closet Cleanout/Event Styling by Lauren Neal
Where it's available:
Lauren Neal Wardrobe Stylist
Why I love it:
It may be a shameless plug, but I definitely stand by the importance of a summer wardrobe refresh for the upcoming season! I offer personal styling and closet cleanouts and am represented by Kaki Gaines, a stylist out of San Antonio. One thing we all need is a little help when it comes to cleaning out the closet before a big season change and as it can be overwhelming at times. With years of experience in styling and clothing design, I am here to help whether it's prepping for a summer vacation or a gala you're planning to attend. For more information on my services, please don't hesitate to reach out via email!