The start of Claudia Melton's musical journey can be traced back to her childhood home. At just four years old, Melton was learning to hit the right notes and sing in tune thanks to her mother, a retired music teacher. While learning the violin shortly after, she quickly discovered she has an intrinsic ear for music — and hasn't looked back since. From singing alongside artists such as Erykah Badu and Common to learning 22 songs in 24 hours to perform at one of RC & The Gritz's longest-running jam sessions in the DFW metroplex, Melton is no stranger to the big leagues. However, the sparkling city by the sea has always had a special place in her heart and story. 
You were born into a family of talented musicians; how have they encouraged and inspired you over the years?
CM: I pay tribute to my mom for the musical foundation she laid and to my brother Carl for hosting the platform for me to shine. My mom was at every recital and every music lesson. She would be in the kitchen washing dishes while I was practicing and say, "Play measure 12 again! It's getting better but play it slowly this time." Today, my brother Carl and I play together at The Republic of Texas, and he is always showing me new music to check out so we can play it. He challenges me to be a better musician.
Speaking of family, your father Claude Melton is the former president of the iconic Texas Jazz Festival. How does it feel to now be a part of such an important community event he once helped to organize?
CM: It is an honorable feeling to be a part of the festival. I often think about his leadership and success while operating the festival for 15 years, and how much it has grown today. I have been performing at the festival since the 2000s and every year my father would sit in the front row and have the biggest grin on his face during the show. Seeing me on stage made him proud, and I cherish those moments forever. 
You've sung alongside and opened for a variety of artists — Norah Jones, Boyz II Men and Erykah Badu, to name a few. Do you have a favorite performance memory when it comes to collaborating and singing with others?
CM: My absolute best memories happened on Wednesdays at The Prophet Bar with RC & The Gritz Band (Erykah Badu's band) in Deep Ellum. RC & The Gritz hosts the longest-running jam session in the DFW metroplex, and when you enter the room, you might see famous musicians hit the stage or a one-of-a-kind Prince tribute. One of my most memorable nights was when I learned 22 songs in 24 hours because I had to learn three different artists' songs! I didn't think I could do it, but I lived and breathed those songs every minute until showtime and didn't skip a line.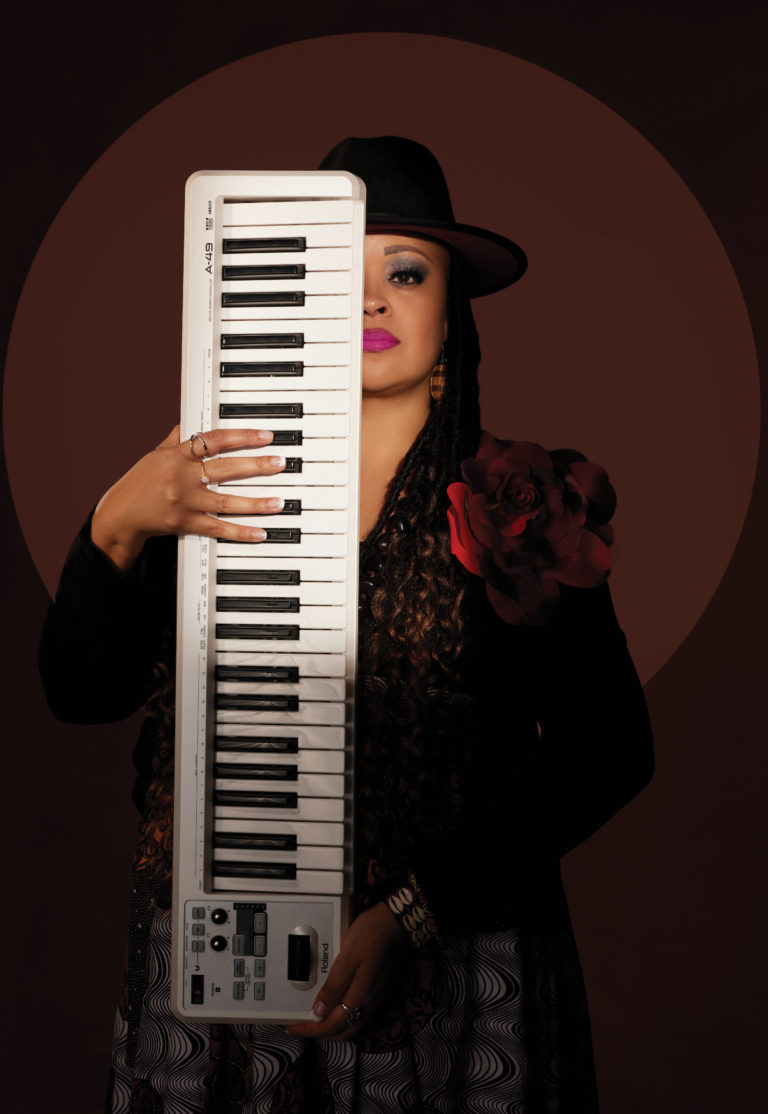 Who are your biggest musical influences?
My biggest influence comes from church. I grew up in St. John Baptist Church where the choirs sang rich harmonies to a heavy beat with hands clapping and hallelujahs going around. My mom was on the church music team, so I was at church four days a week hearing the voices sing with this powerful sound. I didn't realize then how much that influenced me in my own music. When I wanted to learn how to sing and play piano at the same time, I started playing for the youth choir at church, and began listening to jazz extraordinaire Rachelle Ferrell, which changed the game for me completely. I was fortunate enough to meet her and tell her how she met her number one fan.
___________________________________________
Rapid Fire Q's
Favorite instrument to play? Piano
Instrument you've always wanted to learn? Harp
Dream collaborator? H.E.R.
What song do you have on repeat right now?  "Too Bad I Forget" by Alex Isley
Three local restaurants you love?  Spice Station, Ginger Cafe and Doc's Seafood 
___________________________________________
You're the resident artist for the Texas Tease Yacht Charter Full Moon Cruises. How did you get started with Texas Tease, and what has that experience been like?
It has been the best experience! In 2018, I moved back to Corpus to focus on family and being a new mom, so I was not rushing to get back on stage. If I did again, I wanted to play music by the oceanside. While I was performing at a Valentine's Day show with local saxophonist Eddie Olivares Jr., I met Lynn Cates, the owner of Harrison's Landing. She said, "We would love to have you perform at our restaurant and on our yacht." I asked, "Where is it?" She pointed to the ocean where it sat and to the Texas Tease Yacht.
My wish came true … I found a place to perform by the sea. I couldn't ask for more. We sail on the bay for two hours every full moon during mild weather conditions, and the crowd is always ready to enjoy the vibes and the illustrious view of a sunset moonrise. I soak it all in while singing a jazz bossa nova overlooking the waves.
In addition to your various musical endeavors, you're also a music teacher, plus you've made significant contributions to arts education in the form of curriculum implementation. I'd love to hear your perspective on the importance of arts education.
CM: I work with a phenomenal team of elementary music curriculum writers for CCISD. I didn't realize the significance of a good music teacher until I was in the classroom and became one. I was awarded over $5,000 in grant money from CCEF and TMEA to help fund my music program at Barnes Elementary since 2021. A parent reached out and said, "If it wasn't for your music class, my son would have had a hard time at school. He looked forward to Thursdays when he went to [your class]." Music represents humanity, so we must keep it alive in our schools. Music literacy supports reading, composition, math, linguistics, kinesthetics, mental health and more.
I know most musicians loathe this question, but I must ask: What are your five desert island records?
Everlasting Life by Kim Burrell, Black Radio I, II, III by Robert Glasper, The Best of Sade, Songs in the Key of Life by Stevie Wonder and Supa Dupa Fly by Missy Elliott.
Any upcoming projects to share?
CM: This year, I will be releasing a well-anticipated album, A Land Called Love, that I have been writing for six years — so be on the lookout for it on my website. I perform at Harrison's Landing monthly for full moon cruises and holiday events. You can find me playing jazz piano and singing the hits as a resident artist at The Republic of Texas at The Omni Hotel alongside my brother Carl and Jon Perez. I'll be headlining at the Texas Jazz Festival each year in October.