It feels like we've lived through quite a lot of "once in a lifetime" kinds of historical events in the last few decades. Sometimes, these events are seared into our minds as they happen because we know we are witnessing something we'll remember. Other times, the importance of an event takes time to reveal itself to us and Corpus Christi history is an interesting look back in time.
These are 30 defining moments in Corpus Christi's history so far. They're not all things that people photographed and wrote about in the moment because they knew they'd cause waves. Some are stories of ordinary people who did big things for a small town. Others are seemingly small events that changed the lives of many far beyond the Coastal Bend. All of them are things that happened here to change our world and make Corpus Christi the place we know and love today.
Henry Lawrence Kinney (1814-1862) was perhaps Corpus Christi's biggest booster and is regarded as the founder of the city. When Kinney arrived here in 1839, the area was very much the frontier. He built a home and store surrounded by a stockade and engaged in questionably legal trading and smuggling while buying up land. In 1845, his business boomed as half of the United States Army, under the command of General and future President Zachary Taylor, moved into the area as they awaited action in the Mexican-American War.
Kinney left town with the troops, but returned following the war in 1846 and continued to buy land with the goal of selling it to new settlers. But how could he encourage people to come to Corpus Christi, which hadn't been incorporated as a city and couldn't be reached by rail? With a state fair, sure to attract the attention Kinney thought Corpus Christi deserved!
1852's Lone Star Fair was advertised internationally with the goal of attracting 30,000 people to the area. Kinney went to great expense to ready the attractions, including a circus, theater troops, speakers, agricultural shows and bull riding. Kinney spread the word of extremely fertile soil, large stretches of prairie with abundant wildlife, and ensured land, stock and supplies needed to settle were available for purchase. He hoped this would be the event that convinced people to stay and settle in the area.
When only 2,000 people attended the fair, Kinney moved on to chase his fortunes elsewhere. He returned again briefly in the late 1850s before his death in Mexico in 1862. The Lone Star Fair was never again held in Corpus Christi, but his work to enlarge the city of Corpus Christi was indeed successful, as it was incorporated several months after the fair, on Sept. 9, 1852. Corpus Christi would not be here were it not for Henry Kinney's persistence in attracting attention to his tiny frontier town.
1852 (Kinney): Corpus Christi Public Libraries, La Retama Special Collections & Archives.
1853. Richard King's first land purchase was 15,500 acres of a Mexican land grant, Rincón de Santa Gertrudis. In 1854, he added 53,000 acres with the purchase of Santa Gertrudis de la Garza, a Spanish land grant. King stocked his new ranch with any cattle he could find, traveling to Mexico to purchase cattle and recruit employees.
 A breed of beef cattle developed in the early 20th century at King Ranch, Santa Gertrudis, bears the name of this land. King Ranch is known as the birthplace of American ranching and has grown to over 825,000 acres, making it America's largest ranch. It is these early purchases that marked the transition of King from a steamboat man to an entrepreneur and rancher.
1853 (King Ranch): CCPL, La Retama Special Collections & Archives.
1873. The arrival of Dr. Arthur Spohn's medical expertise in a rural Corpus Christi meant a healthier population. Spohn's years of training put him at the forefront of research into things like how to stop the transmission of disease and sterilization before surgery — he even traveled with a patient to the Pasteur Institute in Paris to get lifesaving rabies inoculations. 
After years of treating patients in their homes, including performing surgeries there, Dr. Spohn saw the need for more modern medical care and raised funds for the city's first hospital, which opened in 1905. Today, the largest health system in the area, Christus Spohn, bears his name in remembrance of the pioneering doctor who transformed medicine in South Texas.
1873 (Spohn): CCPL, La Retama Special Collections & Archives.
1875. Uriah Lott charters the Corpus Christi, San Diego and Rio Grande railroad (later Texas-Mexican railway), bringing railroads through the Coastal Bend.
1875 (Railroad): CCPL, La Retama Special Collections & Archives.

1878. A Yale Divinity School-trained pastor of Freedom Congregational Church, Solomon Coles gave up his pastoral duties in 1880 to dedicate more time to the school. Solomon Coles High School is named in his honor.
1905. Epworth-By-The Sea Methodist retreat is held on North Beach, cementing it as a tourist destination for decades to come.
1905 (Epworth): CCPL, La Retama Special Collections & Archives

1913. The election of Mayor Roy Miller catapulted the passionate and progressive 29-year-old to leading an era of modernization for Corpus Christi. During his three terms (1913-1919), Corpus Christi made improvements in water supply, streets and sewage systems, added a trolley service, started paying firefighters and completed the first sections of the bluff balustrade project. These civic improvement projects provided a foundation for the growth of the city for decades to come.
His years as mayor gave him the standing to work for Corpus Christi's benefit for years after he left office. He led the Central Rescue and Relief Committee for recovery from the 1919 hurricane and lobbied for a breakwater to protect the city and a deep-water port to grow its economy. He also worked to secure Corpus Christi as the location for a Naval Air Station. Roy Miller's vision advanced the urbanization of the city and ensured it had the resources to continue its growth beyond his lifetime.
1919. In the days before radar and when you could walk from Water Street straight into Corpus Christi Bay, Corpus Christi was vulnerable to major hurricanes. After several smaller storms in the decades prior, luck ran out. The 1919 storm left piles of lumber 15 feet tall downtown after the storm surge pushed in. Bales of cotton stacked ready for shipment broke apart, and oil leaked into the water — all while other parts of town were unaware of the severity of the storm. The 115 mph wind damage was minor compared to the impact of the storm surge. 
It was this storm that established the need for downtown to be protected after a costly recovery, spurring investments into the breakwater and the seawall, which have protected us from every storm since. A six-year-old resident of Corpus Christi, Robert Simpson, found his passion for studying hurricanes when he survived this storm by seeking refuge in the county courthouse with his family. He went on to lead the National Hurricane Center and worked to develop the Saffir-Simpson Hurricane Wind Scale, saving countless lives through a warning system his community didn't have.
1919 (Hurricane): Courtesy of the Collection of Jim Moloney.

 
1926. For as long as Corpus Christi has had settlers, there has been a desire to grow our shipping industry and establish a deep-water port. Small ports dotted the Gulf nearby, but as ships and the loads they carried grew, not all could accommodate them. Shipping from Corpus Christi required shallow vessels that were able to navigate winding channels to get into the bay.
With the efforts of Corpus Christi's businesses and politicians, a channel was dredged and the Port opened in 1926. The initial goal of the port and the Navigation District was to facilitate the shipping of South Texas farm produce, including cotton. The economy of the region was based nearly entirely on agriculture, and a deepwater port grew the market for the goods. The fact that the port was already established when oil was discovered nearby meant the city saw an immediate surge in shipping and could quickly pivot to building oil docks and refineries.
1926 (Port): CCPL, La Retama Special Collections & Archives.
1927. The Nixon Building (now the Wilson Building) was built as the first large office building on the bluff downtown. This established uptown as a financial and business district, replacing the ornate homes that once lined the bluff.
1927 (Nixon Building): CCPL, La Retama Special Collections & Archives
1929. LULAC's legacy as the oldest and largest continually active Hispanic American political organization started here — the result of merging four organizations, all active in the region. The group has an array of focuses on its quest for equality, from fighting lack of political representation to being included on juries to ensuring quality education. LULAC's strength lies not only in its own membership but in the many organizations with which it partners.
1929 (LULAC): lulac.org
1934. With the arrival of the Port of Corpus Christi's first major industry came the building of the Industrial Canal and the rebuilding of the Mathis dam. The arrival of manufacturing signaled a new area of business for Corpus Christi, as it was more reliable than the growth of crops. 
This new industry required fresh water and a supply of natural gas, spurring the expansion of projects to secure both for the city, including the founding of Maston Nixon's Southern Minerals, a pipeline, production and supply company. These interconnected businesses strengthened each other as they developed the city's new industrial zone at the port, setting up the arrival of dozens of others. 
1934 (Southern Alkali): CCPL, La Retama Special Collections & Archives.
1938. The annual Splash Days festival began in 1917 to kick off the summer swimming season, when residents and visitors flocked to Corpus Christi Bay to swim. Buccaneer Days replaced the swimsuits with pirate garb. The first Buc Days didn't have the now-famous carnival (that was against a city ordinance), but it did have a parade and a coronation pageant to crown a queen like we have today. People from all over South Texas flock to the festival, which now features 11 days of activities with something for everyone, including a PRCA rodeo, a concert series, two parades and shopping. For over 25 years, the proceeds have funded scholarships for area students. 
1938 (Buc Days): CCPL, La Retama Special Collections & Archives.
1939-41. The Seawall is built on Corpus Christi Bay to protect downtown from storm surge, adding a city block between Water Street and the Bay.
1939-41 (Seawall): CCPL, La Retama Special Collections & Archives.
1941. Naval Air Station Corpus Christi begins flight training. Over 35,000 aviators earned their wings here by the end of WWII, including President George H.W. Bush and Neil Armstrong.
1941 (NASCC): CCPL, La Retama Special Collections & Archives.
1948. Dr. Hector P. Garcia, a WWII veteran, was infuriated by the injustices faced by Mexican American veterans when navigating life after service. Months after founding the organization, Dr. Garcia learned of the refusal of a funeral home in Three Rivers to host a wake for Private Felix Longoria, who had finally arrived home after his death near the end of WWII. Dr. Garcia alerted state and local officials to this injustice and received word back from U.S. Senator Lyndon B. Johnson that he would arrange for burial at Arlington National Cemetery. Longoria was the first of nearly half a million Mexican American WWII veterans to be buried there. Word of the case reached across the nation, and Dr. Garcia's efforts to grow the organization gained momentum.
The GI Forum, along with LULAC, spent considerable resources fielding legal teams to fight for rights in court. These sometimes lengthy court battles meant a lot of civil rights case experience for local attorneys. One of them, James de Anda, went on to represent a group of local families in Cisneros v. Corpus Christi ISD. The case went all the way to the Supreme Court, where it established Mexican Americans as an identifiable minority group, deserving of all protections afforded by the Brown v. Board of Education of Topeka, Kansas ruling.

1950. With the growing popularity of the 15-piece Galvan Orchestra in the late 1940s, Rafael Galvan Sr. needed a permanent venue for performances. The ballroom welcomed all people during a time of segregation, as well as performers including Tommy Dorsey, who played the grand opening, and Duke Ellington.
1950 (Galvan Ballroom): Rafael Sr. and Virginia Galvan Family Papers, Collection 118, Box 9, Folder 6. Special Collections and Archives, Mary and Jeff Bell Library, TAMU-CC.
1950. The original access to Padre Island was the Don Patricio Causeway, which consisted of four parallel wooden troughs on trestles, just wide enough to steer a car's tires into. After its destruction in 1933, the island became difficult to access. The completion of the causeway, later named for JFK after his death, unlocked the potential of Padre Island and opened it to development, not only for the tourism industry but for full-time residents.
1950 (Causeway): CCPL, La Retama Special Collections & Archives.
1950. In the beginning, one could walk up to Harmon Dobson's burger stand and get the largest hamburger in town for 25 cents. His goal was that you'd then exclaim "What a burger!" giving an appropriate name to his business.
 An avid pilot, Dobson could be seen pulling a Whataburger banner over the skies of Corpus Christi and dropping coupons. He chose the iconic orange and white architecture to make the stores more visible from the air. Corpus Christi served as the home base for the company through growth and changes to the menu, until 2009 when the headquarters moved to San Antonio.
1950 (Whataburger): Courtesy of Whataburger.
1959. The Harbor Bridge replaces the Bascule Bridge, a 1926 drawbridge with only a 97-foot wide opening for ships to enter the Port of Corpus Christi.
1959 (Harbor Bridge): CCPL, La Retama Special Collections & Archives.
1960. Texas Jazz Festival is born with a free concert at the Del Mar College Auditorium, having grown out of shows put on by the student Jazz Club.
1960 (Jazz Festival): CCPL, La Retama Special Collections & Archives.
1972. AMST's picturesque bayfront building designed by world-famous architect Philip Johnson opened with much ado. The first exhibit featured works by Jasper Johns, Frank Stella and Andy Warhol, who attended the museum's opening. AMST's collections and exhibits not only include local and Texan artists, but bring pieces by some of the most famous artists in the world to the Coastal Bend. The museum is the destination for fine art in the Coastal Bend, attracting over 100,000 visitors each year.
Bob Shaw "Andy Warhol Photographing David Whitney- Opening Day, 1972" Giclee print on Epson archival enhanced matte paper. 18.357×27.375×0.
 

A Gift from the Artist for the Permanent Collection of the Art Museum of South Texas.
1989. Known by many names throughout its history, Texas A&M University-Corpus Christi (TAMU-CC) fought for its growth for decades as it changed hands several times. The campus suffered major damage in Hurricane Celia in 1970, but a year later the state supported a school in Corpus Christi that opened with 969 students in 1973. It was joining the Texas A&M system that signaled an enormous period of growth.
In 1993, the name changed to TAMU-CC; a year later, it became a four-year university with 5,000 students. 
The massive growth of not only the student body but the campus has benefitted the entire community through developments like the Early Childhood Development Center in partnership with CCISD and the Performing Arts Center, which is where the Corpus Christi Symphony Orchestra hosts its season's concerts. The university's impact spreads nationwide through research including unmanned aircraft systems and the world-renowned Harte Research Institute for Gulf of Mexico Studies, and through the nearly 50,000 alumni working across the nation and the world.
1989 (TAMUCC): Special Collections and Archives, Mary and Jeff Bell Library, TAMU-CC.
1991. The Downtown Management District (DMD) was founded as the first Municipal Management District in the state and represents the property owners and stakeholders within its bounds. If you've noticed changes downtown — benches, planters, landscaping, lighting, murals, fewer boarded-up buildings, clean streets, less graffiti, improved parking, two-way streets, new businesses moving in and more — you've seen the DMD at work.  
The DMD helps administer the funds from Tax Reinvestment Zone #3 to provide incentive programs to aid development in targeted areas, like increasing downtown living options. The funds come from within the TIRZ #3 area and are designated for use only within the bounds of the area. They are spent on development incentives and improvements to public spaces that help to give all of us a safe, pleasant downtown to enjoy.
1991 (DMD): Courtesy of Downtown Managment District. Photo by Ben Zaragosa.
1992. A visible sign of the city's Naval heritage, the USS Lexington found a home here after decommissioning following 48 years of service. One of her last roles was as a training carrier, and she visited Corpus Christi several times. To date, over eight million people have visited from across the world.
1992 (Lex): CCPL, La Retama Special Collections & Archives.

 
1993. Selena Quintanilla Perez, raised in Corpus Christi, was one of the most influential and prominent Tejano artists who ever lived. Before her tragic death in Corpus Christi in 1995, Selena helped the genre skyrocket after being the first female Tejano star to win a Grammy in 1993 for her album Live, which had already climbed to No. 2 on the Billboard's Top Latin Albums chart. Prior to the success she saw in 1993, the artist continuously broke barriers in the male-dominated genre – from fronting the band Selena y Los Dinos, which included her elder siblings and formed in the early '80s, to winning a Tejano Music Award in 1989. 
Selena was showered in accolades while living, including being dubbed the "Queen of Tejano." The posthumous release of Dreaming of You gained the English language crossover success that she had worked so hard for. The album was the first by a Latin artist to debut atop the Billboard 200. Corpus Christi continues to be a place to celebrate the artist, from hundreds of thousands of adoring fans coming together to celebrate Selena's legacy during Fiesta de la Flor to visiting her statue on the bayfront and getting up close with artifacts at the Selena Museum. 
1993 (Selena Memorial Mirador): Provided by Visit Corpus Christi.
2004. American Bank Center opens, replacing Memorial Coliseum, and expanding the city's capacity to welcome larger performances and conventions.
 

2004 (American Bank Center): Provided by Visit Corpus Christi.
2005. Home of the Houston Astros AA-Affiliate, the Corpus Christi Hooks, Whataburger Field provides entertainment for nearly 500,000 patrons annually. From taking in one of the 70+ games a year to watching future or past World Series Champion players don the Hooks jersey to enjoying Corpus Christi Symphony Orchestra concerts or other community events, Whataburger Field has been a major benefit to the city since its opening.
2005 (Hooks): Provided by Corpus Christi Hooks.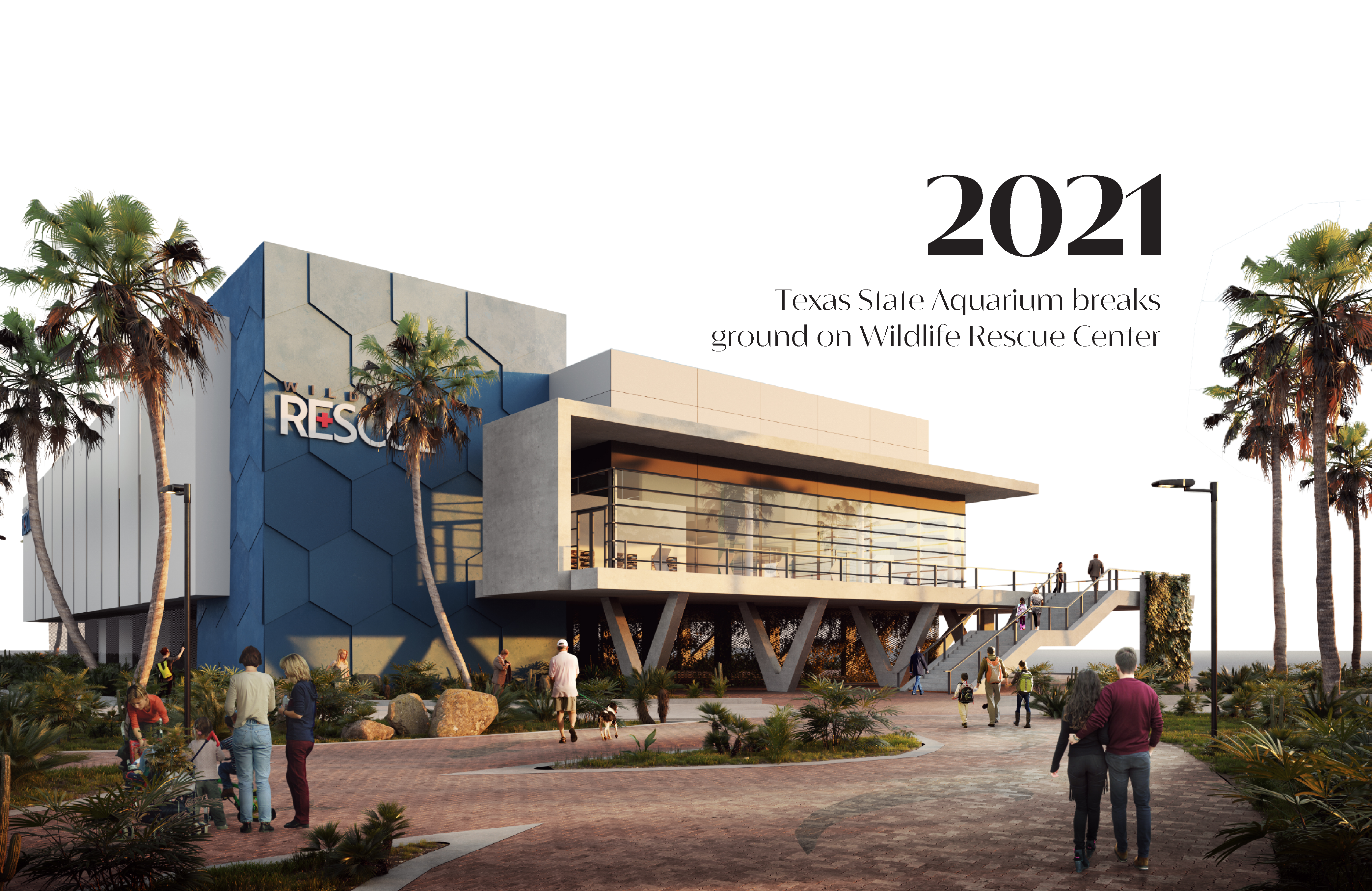 2021. Fulfilling the original vision for Texas State Aquarium, the Wildlife Rescue Center will provide state-of-the-art treatment and rehabilitation for shorebirds, birds of prey, marine mammals and sea turtles. Located on the campus of the TSA, the center will also welcome visitors, who will learn about the efforts taking place to protect wildlife. It also serves as a learning laboratory for the education of veterinary medical students to expand their skills. This expansion of rehabilitation services increases TSA's contributions to the efforts of rehabilitation as it is called on to care for animals in need, both locally and from across the nation.
2021 (TSA): Courtesy of Texas State Aquarium.
2020s. Just like earlier in our history, once again a growing port and a new bridge go hand in hand. Business at the port today is booming, and ships are larger than in the 1950s. The current bridge limits the height of vessels that can come into the port, sometimes requiring ships to take on seawater in their hulls to sit lower in the water to pass under the bridge. Others simply can't come to the Port of Corpus Christi at all. 
A new Harbor Bridge will increase the clearance underneath the bridge, allowing more diversity in the shipping customers at the port. The Port of Corpus Christi will also dredge the channel to 54 feet and widen it to allow the larger ships safe passage. The new bridge and corresponding changes at the port will open doors for Corpus Christi as we plan for the decades —and centuries — to come.
2021 (TSA): Courtesy of Texas State Aquarium.

 

2020s (New Bridge): harborbridgeproject.com.