You've gotten' the biggest aluminum tree you can find, perhaps even painted it pink. You've bested the neighbor's decorations and blown a fuse or two, in classic Griswold fashion. You've hung stockings by the chimney with care. Another magical Christmas morn is nigh, but what to feed the starving masses? My biggest "bah humbug" on Christmas morning is leaving the merriment in order to put together a last-minute Christmas morning breakfast that I haven't had a chance to think about before that very second. Not this year! This year, we're making a new tradition where we get to continue the fun of Christmas together, as a family, in the kitchen.
If your family is anything like mine, enticing them to desert their new toys is no small feat. We need a menu as fun as an official Red Ryder, carbine action, 200-shot, range model air rifle. Luckily, we needn't worry anyone will shoot their eye out when they've got their hands on cinnamon hand pies. A salute to a childhood classic, these small tarts are portable and can satiate the kiddos while they recount their Christmas loot. I also put the kids to work rolling out the dough, a task they merrily play paper-rock-scissors for. They'll love choosing what festive shape their tart will take. We chose Christmas trees, which narrowly beat out angels and snowmen. The best part is watching how creative the darlings get with icing and red and green sprinkles.
To round out our family-friendly Christmas fare, we're making partridge (nests) in a pear tree. Tailor this sheet pan meal to your tastes: use sweet potatoes, substitute gruyere or prosciutto, and maybe try adding a southwest flavor kick with bell peppers and pepper-jack cheese. These treats are a perfect nibble that hits all the high points of a great breakfast — buttery hash browns dotted with cheese, smoky bacon and a runny egg that oozes when you cut into it. If you don't like your eggs runny, just cook them until the white congeals.
Hopefully, you've missed walking in on Uncle Frank in the shower and Ol' St. Nick left more than coal under your tree. Gather 'round the table for a stress-free, no-fuss Christmas brunch. And always, "Remember no man is a failure who has friends," family and good food. Merry Christmas.
Makes 6 individual hand pies  |  Prep Time: 30 minutes  |  Cook Time: 20-25 minutes
INGREDIENTS: 
For the Crust
2 1/2 cups all-purpose flour
1 tbsp granulated sugar
1 tsp kosher salt
16 tbsp cold, unsalted butter, cubed
1/2 cup ice water 1 egg
1 tbsp milk
For the Filling
1/4 cup dark brown sugar 2 tsp all-purpose flour 3/4 tsp cinnamon
1/4 tsp salt
3 tbsp unsalted butter, room temperature
1/4 tsp vanilla bean paste
For the Icing
1/2 cup confectioner's sugar 1 tbsp milk
1/2 tsp ground cinnamon 1/4 tsp vanilla extract
1/4 tsp salt
DIRECTIONS:
For the Crust
Add flour, sugar and salt to a food processor and pulse to combine. Add cubed butter to flour mixture and pulse another 10 seconds. Finally, add water to mixture and mix another 15 seconds, until mixture starts to come together. Form dough into a ball and cover in plastic sling wrap. Store in the fridge while you preheat the oven and make the filling.
Prepare the Filling
Preheat oven to 375°F. Combine brown sugar, all-purpose flour, cinnamon and salt in a medium size bowl and whisk to combine. Using a fork or pastry blender, cut butter and vanilla bean paste into the dry ingredients until a paste is formed.
Assemble the Pies
Remove dough from the oven and place on a well-floured surface. Roll dough to 1/8" thickness. In a small bowl, scramble the egg and milk together until blended. Brush a thin layer of the egg mixture onto the dough using a pastry brush. Using your favorite large cookie cutter, cut as many shapes as you can from the dough. Spoon one heaping tablespoon of filling into the center of the dough and carefully spread across the surface of the cutout, leaving a 1/8" border. Top with a second cutout and press the edges with your fingers to seal. Prick the surface of the pie with a fork, and press the tines of the fork around the edges to ensure they have sealed. Transfer hand pie to a baking sheet. Repeat for the remaining cutouts. Form a ball with any remaining dough and repeat the steps listed for assembling the pies until all the dough has been used.
Baking and Icing
Place prepared pies in a preheated oven and bake for 20 to 25 minutes. For those who like their tarts tender and soft, remove the pies once the bottom is cooked, but before they begin to brown. If you like your pie slightly crispy, leave in the oven until golden brown along the edges. While the pies bake, stir ingredients for the cinnamon icing in a separate bowl until a thin icing has formed. Remove the pies from the oven and let cool to room temperature before spooning on icing and spreading it with the back of a spoon to cover the surface. Alternately, enjoy the pies naked hot from the oven with a hot cup of coffee.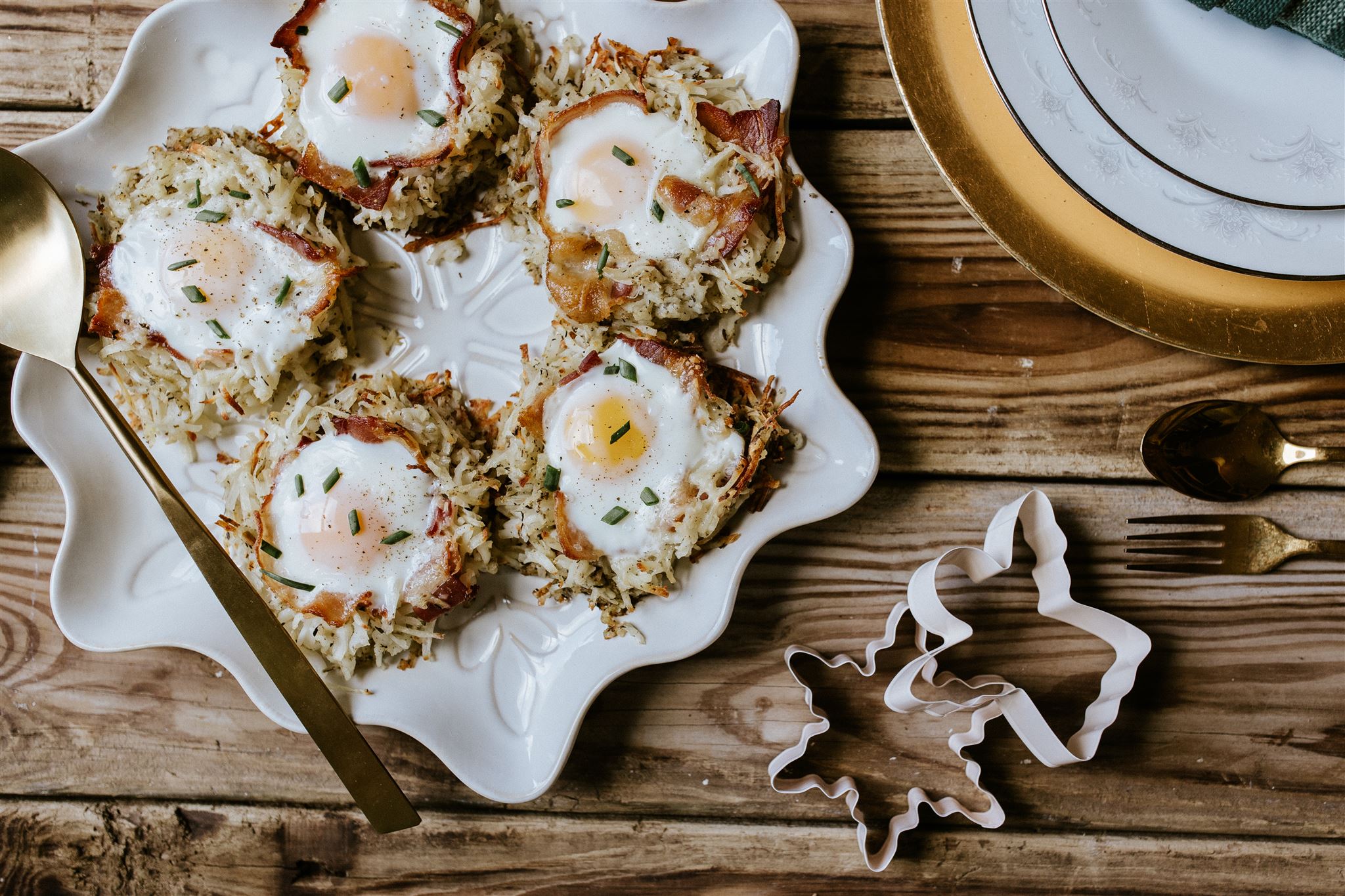 Partridge Nests
Makes 6 individual nests  |  Prep Time: 5 minutes  |  Cook Time: 35 minutes
INGREDIENTS: 
3 lbs shredded hash browns, frozen
3 tbsp olive oil
1 tsp Italian seasoning
3/4 tsp salt, divided
1/2 tsp black pepper, divided 1/2 tsp garlic powder
1/2 lb bacon, sliced, cut into segments
1/2 cup Parmigiana Reggiano cheese, shredded
6 eggs, preferably pastured from a local farm
DIRECTIONS:
Preheat the oven to 400°F. In a large bowl, combine hash browns, olive oil, Italian seasoning, 1/2 tsp salt, 1/4 tsp black pepper and garlic powder, tossing to combine. Spread hash brown mixture on a rimmed baking sheet that has been sprayed with non-stick cooking spray. Lay bacon slices on top of hash browns, leaving at least an inch of space between the slices. Cook in preheated oven for 20-25 minutes, until edges begin to brown.
Remove from the oven and sprinkle with cheese. Create six nests lined with bacon slices. Form a well in the center about 2" in diameter. Crack an egg into each well and season with remaining salt and pepper. Return to the oven for 10-12 minutes, until eggs have reached desired level of doneness. Garnish with green onions, chives or fresh parsley and serve warm.