Nestled in the beachside community of Port Aransas, where the gentle lull of the Gulf of Mexico meets the vibrant spirit of coastal living, is the vacation home of Yvonne "Bonnie" Garcia. When approaching the entrance of Garcia's home, an architecture enthusiast might recognize notes of Philadelphia's famed Vanna Venturi House with the leading lines in the sloped rooves, as this lovely home aims to celebrate mid-century and post-modern detail.
As you step into Garcia's abode, it's difficult not to notice the architectural inspiration from an era of nostalgic design with traditional coastal accents. Especially notable are the wide floor plate accentuating its placement on the site, expansive windows lining the public areas and vaulted ceilings to create a space of grandeur.
The heart of the house is the open-concept living and dining area, with a striking aqua kitchen delineated with a wall to provide some privacy. The living room offers a welcoming space where families can create lasting memories. 
The living room, adorned with furniture plucked from estate sales, whispers of a time when "retro cool" was the name of the game. Every piece, from the lamps to the side chairs, has been lovingly curated to pay homage to that mid-century/post-modern vibe. Garcia's favorite finds? Unique shelving units and side tables, their original stains transformed with a fresh coat of white paint. It's as if the past has been transported into the present and feels like home.
However, Garcia's passion for design goes beyond the curation of furniture. She enjoys making unique spaces with the help of striking color palettes. Recognizing most coastal homes tend to lean toward warm pastels and traditional coastal hues, Garcia said she wanted to "pump up the volume on traditional beachy colors" and provide an eclectic selection. "The ambiance I wanted to create can best be described as 'Retro Funky Coastal Cool,'" she said. 
Bright aqua takes center stage on the front door and kitchen. Greens, corals and sunny yellows burst forth as accent walls, driving each bedroom's choice of furnishings and decorative touches. Garcia demonstrates her desire to make each room distinct as a palpable scheme highlights her intentionality with her home.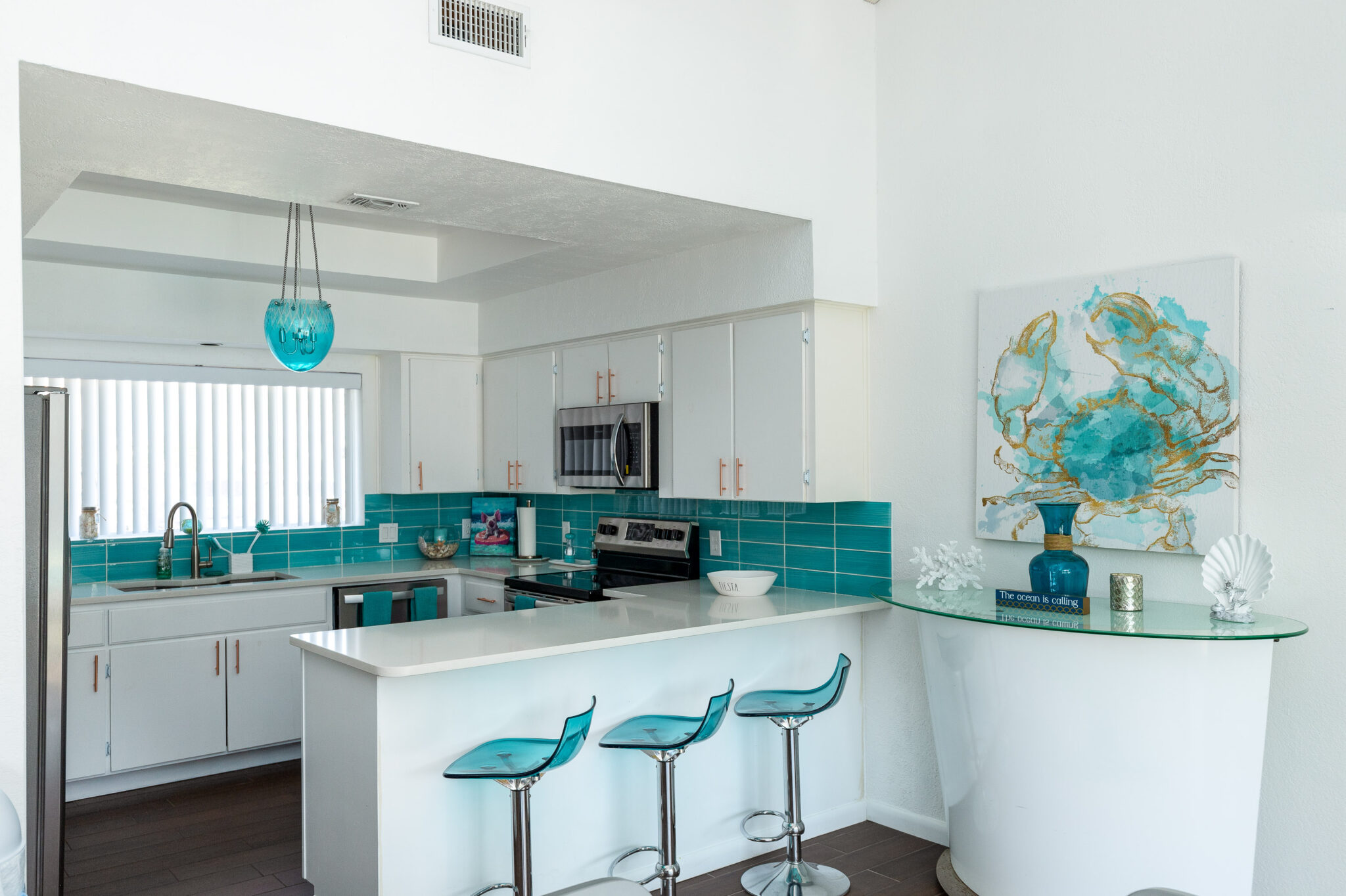 "I'm a very visual person, so I take each room and create mood boards for each where it is laid in selected colors, furniture options and decorative items at times tied to a theme," Garcia said.
Her home is a testament to her passion for design and her innate ability to blend the past with the present in a truly captivating way. "Retro Funky Coastal Cool" indeed, her house is a vibrant canvas where fun and family thrive and where every corner provides an unrivaled experience. 
But what's a house without the perfect location? Garcia's Port Aransas vacation home sits on a double corner lot, a mere stone's throw from the beach, with quick access to restaurants, boutiques and all the necessities of life. It's a balance between serene tranquility and the pulse of coastal living — where Garcia's family and friends come together to create unforgettable beach vacation memories.