In the winter of 2019, after months of backyard discussions between days working at the Army Depot, Dexter Rhines and Joel Torres took a leap of faith and started Hemispheres Cafe. Packing their bags to attend a week-long immersive coffee program at the Texas Coffee School in Dallas, the two began preparation for their next business venture. "Before this program, I didn't know the difference between an Ethiopian blend and a Colombian blend," Rhines explained of their early days in coffee, "but [Joel and I] left with a newfound respect for coffee, went home and just started practicing our craft." This business partnership, born out of project collaboration at the depot and a discovered mutual entrepreneurial spirit, would shape their professional course as well as the concept for Hemispheres Cafe itself.
"Joel and I are two different people, with different religious beliefs, different backgrounds," Rhines said, "and when we started this all, there was a lot of divisiveness. We wanted to create a space to allow people to come together — two different hemispheres, like yin and yang."
After the trials of a pandemic and hard-fought success in establishing two locations at the Corpus Christi Athletic Club (CCAC) and Texas A&M-Corpus Christi, Hemispheres has expanded into a third, flagship location. "Our intent was to be a coffee shop," Rhines said, highlighting the importance of adaptability in their journey. "At CCAC, we knew coffee wouldn't sell as much, so we partnered with a company to bring high-quality protein shakes and smoothies to customers. Then we went to the university and we had to start selling quick-service food items." 
The ambition to meet customers where they are and to provide quality products has been a conscious throughline for the cafe, and Hines described the flagship location as an opportunity for Hemispheres to get back to its roots. "We can adapt to what customers want, but because coffee hasn't been our biggest thing, we want to emphasize it [here]," Rhines said. "We want to educate people on coffee and to bring people in to offer different tasting experiences."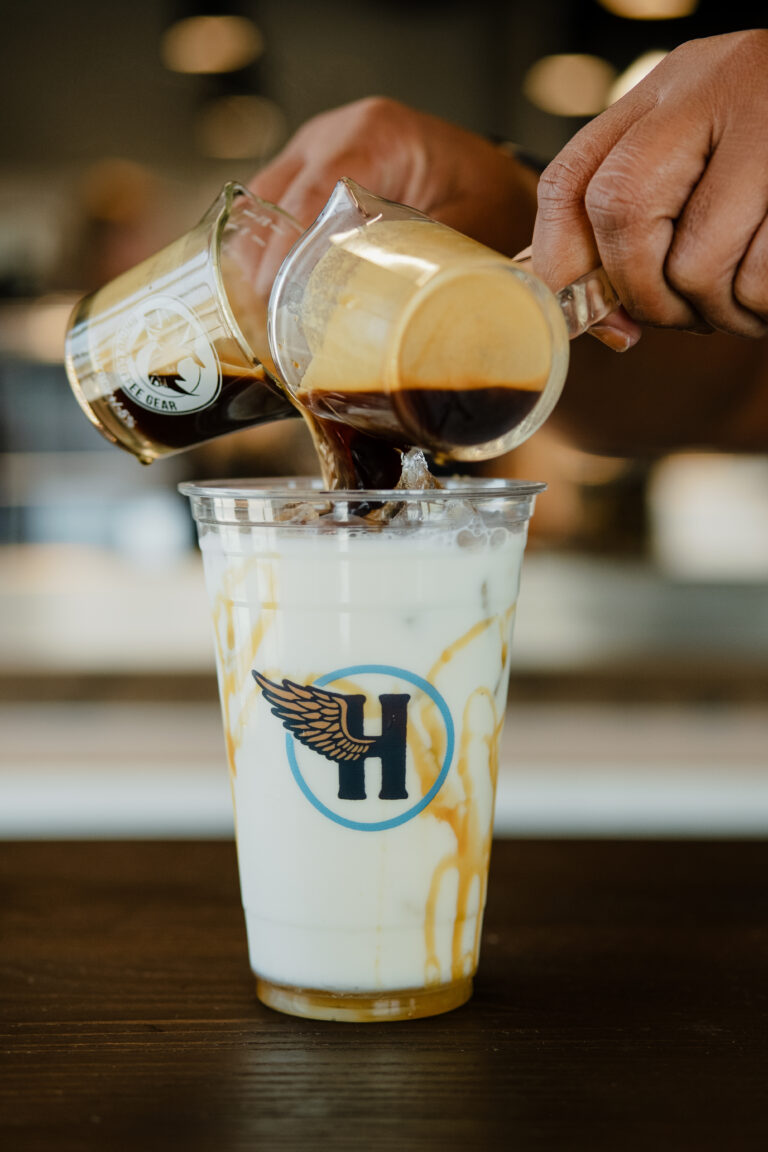 Partnered with Merit Coffee Company out of San Antonio, Hemispheres features its blends on a rotating basis for different coffee-drinking experiences. "Right now, we have a richer blend of espresso, with nuttier, chocolate notes, which pairs well with milk," Rhines said. "For drip and cold brew, we selected Merit's South Presa, which is a lighter, everyday drinker." Hemispheres also features a menu of specialty coffee-based drinks, smoothies and shakes made with all-natural ingredients. 
"Joel and I understand we aren't reinventing the wheel," Rhines said, "but we take a lot of pride in training our staff to provide a good experience, and to make people feel a part of who we are. We are always thinking of ways to provide value to staff and customers as individuals." 
Contact: 2301 Airline Rd. | @hemispherescafe
Interested in more local coffee? Check out our review of Milky Coffee.