Is it the pluck of a single guitar note? A trumpet relating tunes of lament, of longing, of survival? Rising voices coming together in harmonies both heartbreaking and strong? Is it all of these things that make mariachi music so ingrained within Mexican culture? These questions can only be answered by the listener, but mariachi has certainly struck a chord with people who've been fortunate enough to hear corridos or rancheras, especially live.
It's the mariachi experience that prompted Jim Moore, Amanda Marquez and Rai Morales to travel to Guadalajara in 2019 to attend the Encuentro Internacional del Mariachi y la Charrería, considered the largest mariachi gathering in the world.
"We received a Cultural Travel Grant from the Association of Performing Arts Presenters in 2019, and our intention was to go to Guadalajara and learn from the largest and best mariachi festival in the world," said Moore, director of the Performing Arts Center, TAMU-CC. "Our goal was to come back to Corpus Christi and apply even just a few things we'd learned while there. The most important lesson was seeing how mariachi was for everyone — young and old, straight and gay, amateur and professional. Everyone at the festival was there to live and breathe mariachi for over a week together."
What they were able to bring back prompted Moore, Marquez and Morales, into action. Along with their colleagues, Andrea Mantalvo–Hamid and Kenneth Lyescas, they began summoning mariachi groups of all ages and genders to the Performing Arts Center in April of this year for the inaugural Festival de Mariachi en la Isla.
What started as a way of bringing the genre (which contains roots dating all the way back to the 1800s in Western Mexico) to the forefront of the Coastal Bend quickly turned into a way to augment it and make it more inclusive to everyone, regardless of heritage or gender.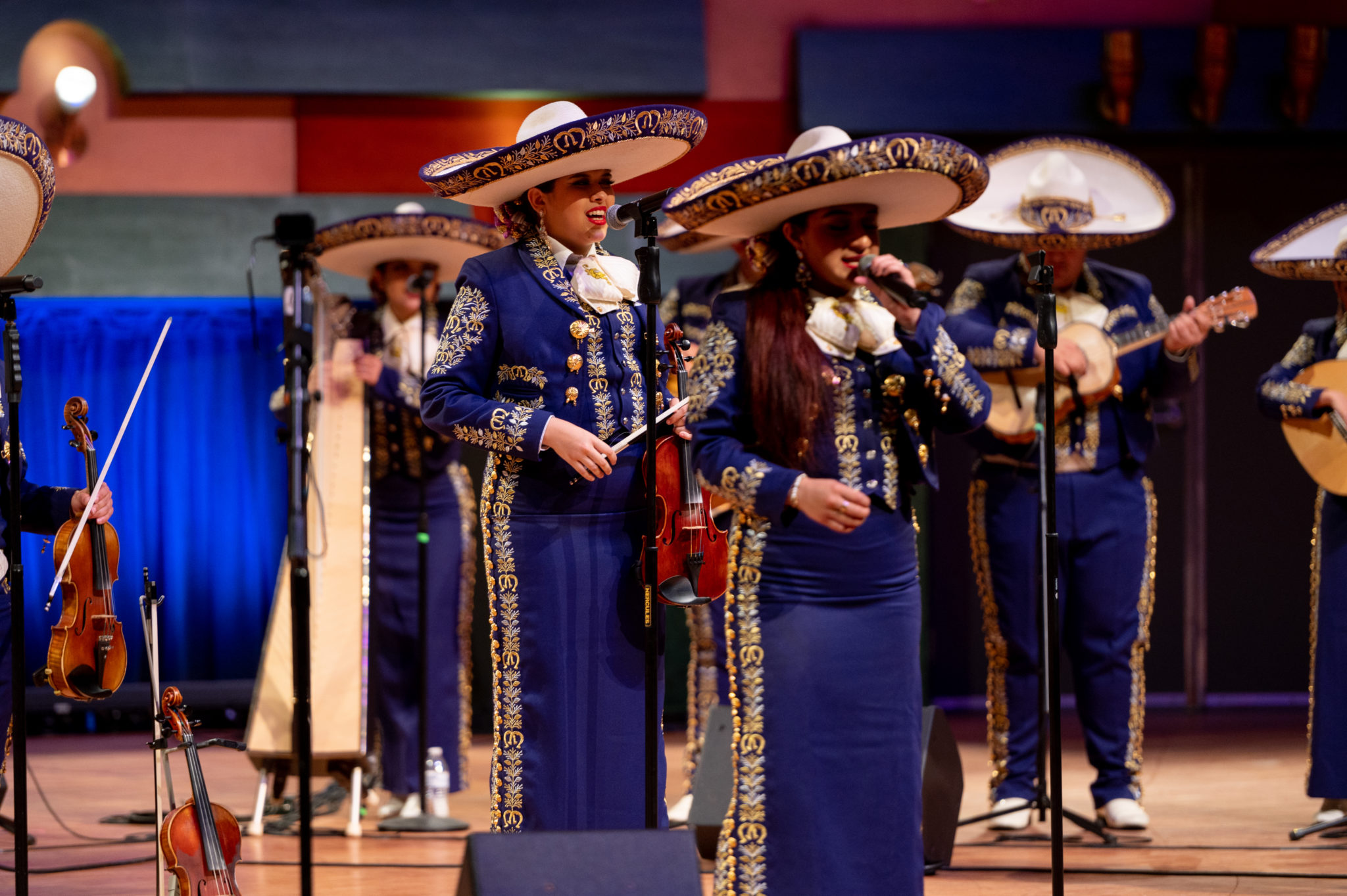 "Mariachi has traditionally been a male-focused genre," said Marquez, first-year seminar coordinator and assistant professor at TAMU-CC. "I believe that women are taking the genre by storm, but there have always been mujeres in previous generations that laid the groundwork for artists in the current generation. Artists such as Lucha Villa, Lola Beltran, Amalia Mendoza and Flor Silvestre were able to challenge the gender barrier imposed upon them by the music industry of their time, and perform music that was traditionally performed by men."
This particular sentiment prompted the trio to introduce a section of the festival for the Mujeres de Mariachi by focusing on female-led groups, as well as an educational component to next year's festival — slated for April 2023 — to teach the community more about mariachi and its origins.
"The ability to create music is a special gift and one that is available to everyone," said Morales, ensemble director of Mariachi en la Isla and professor of music at TAMU-CC. "The fact that so many individuals from different backgrounds can unite through mariachi music is so inspiring and such a beautiful sight to see."