In the spacious neighborhood of Lago Vista sits a Hill Country-inspired estate on a sprawling green lot. Its prominent German farmhouse façade fits seamlessly into the natural surroundings. Lago Vista is one of the Southside's premier neighborhoods, with its expansive lots and beautiful man-made lakes, and this home is one of the neighborhood's most distinctive.
Having moved to Corpus from San Antonio, the homeowners wanted to bring the Hill Country with them. To achieve that vision, they worked closely with architect Kai Geschke and builder Live Oak Construction. The homeowners meticulously designed their German-inspired family estate. From the exposed wood beams and the Texas Lueders replace in the living room to the substantial, black framed windows throughout, this home exudes Hill Country charm.
For the rest of the design choices, the homeowners referenced their extensive collection of inspiration photos. "We mostly wanted clean lines, bright light and a mix of textures and colors," said one homeowner. Those design principles are evident throughout the home. The harmonious palette of earth tones connects the interiors to the surrounding nature, while the layered textures give the space warmth and character.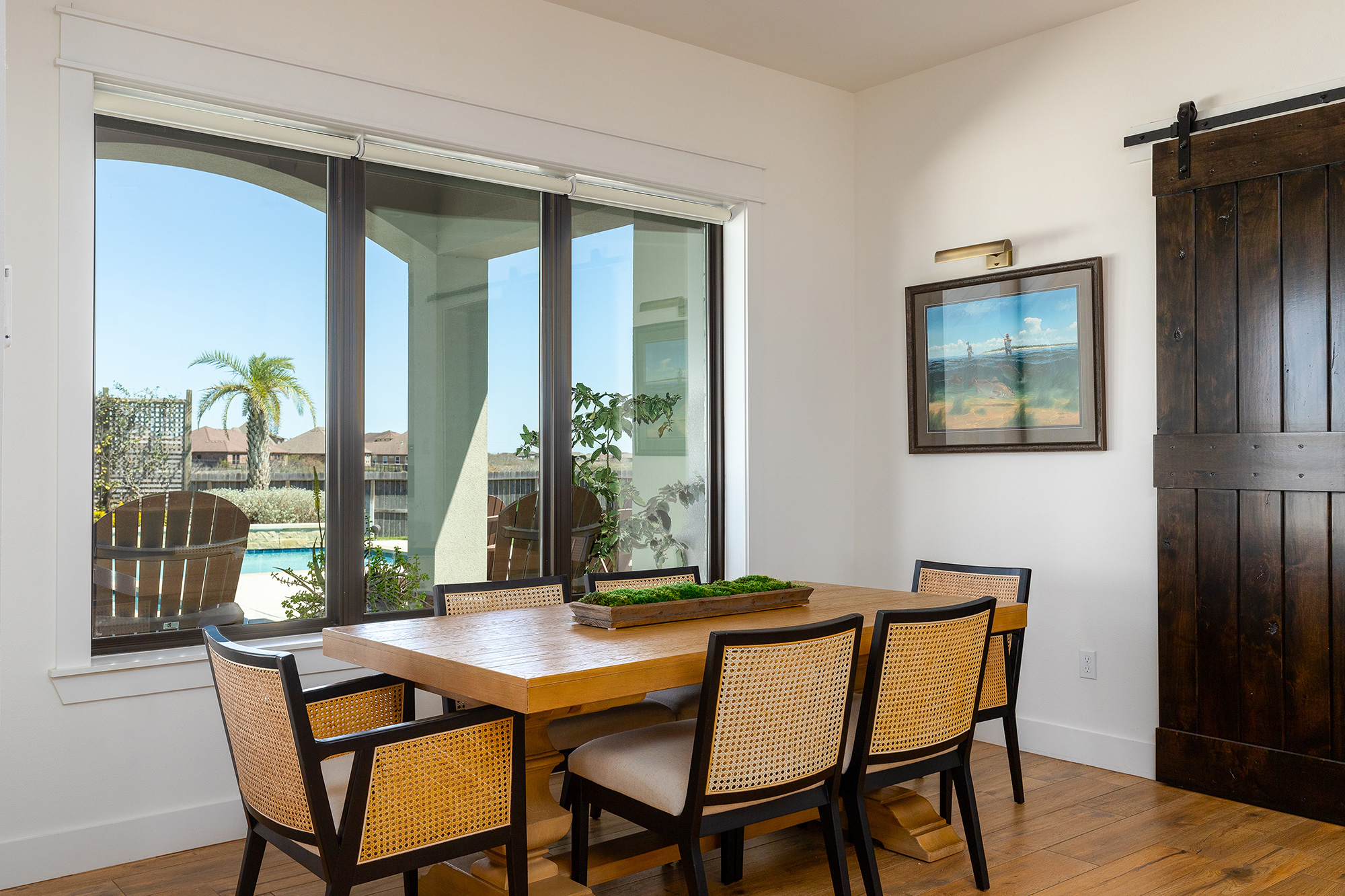 The grand living room with its vaulted ceiling and inviting seating area opens to the kitchen and breakfast room. One of the most noteworthy design choices in the kitchen is the two islands: Taj Mahal quartzite counters sit atop dark blue millwork, making for an attractive combination. The custom vent hood framed by distressed subway tile backsplash is a stunning focal point.
To finish off the interiors, the homeowners collaborated with Neighbor Made Design Co. "We wanted the home to feel inviting and make everyone feel comfortable and welcome," they said. Suede sofas and a massive coffee table placed in front of the replace draw guests to the living room, while an oversized dining table can seat plenty for a dinner party.
One of the most special details in the home is the Hermés King Ranch scarf displayed in the entry. Framed like a piece of art, this scarf is a limited edition; one of only 17 designed by Texas artist Kermit Oliver. This is one of the homeowner's favorite pieces. "The scarf is a perfect combination of my husband and I because he's outdoorsy, and I'm a little more chic."
Despite only being a couple years old, this home has such a depth of character. Much of this is attributed to a balance of old and new; around every corner are items from the homeowners' family members.
The books displayed on the living room coffee table were their grandfather's flight logs, while the antique icebox was owned by the homeowner's father. It is these sentimental details that make this home incredibly special. "I love that when you look around our home, you see old and new, which is a great reminder of our past and the people that have impacted our lives."