Five years after the destruction of Hurricane Harvey, the Rockport Center for the Arts (RCA) is nearly complete with final touches on the new 22,000-square-foot center. The center is slated for completion in October, with a grand opening some time in the fall season. Located a few yards from Aransas Bay in the heart of downtown Rockport, this is the first original facility to be built for the celebrated 53-year-old non-profit organization. 
The new $12.5 million campus —$9 million of which is construction — will more than double the space of the former RCA facility. It will be home to hallmark programs in the 14,000-square-foot visual arts and art education complex, including The Rockport Conference Center (ROCC), an encompassing 8,000-square-feet. The ROCC also includes a 4,500-square-foot ballroom configurable into four smaller breakout rooms, a 1,400-square-foot foyer and a flexible catering and culinary arts education kitchen.
In addition, there is a 16,000-square-foot outdoor sculpture garden that will house ten sculptural works by artists with state, national and international recognition.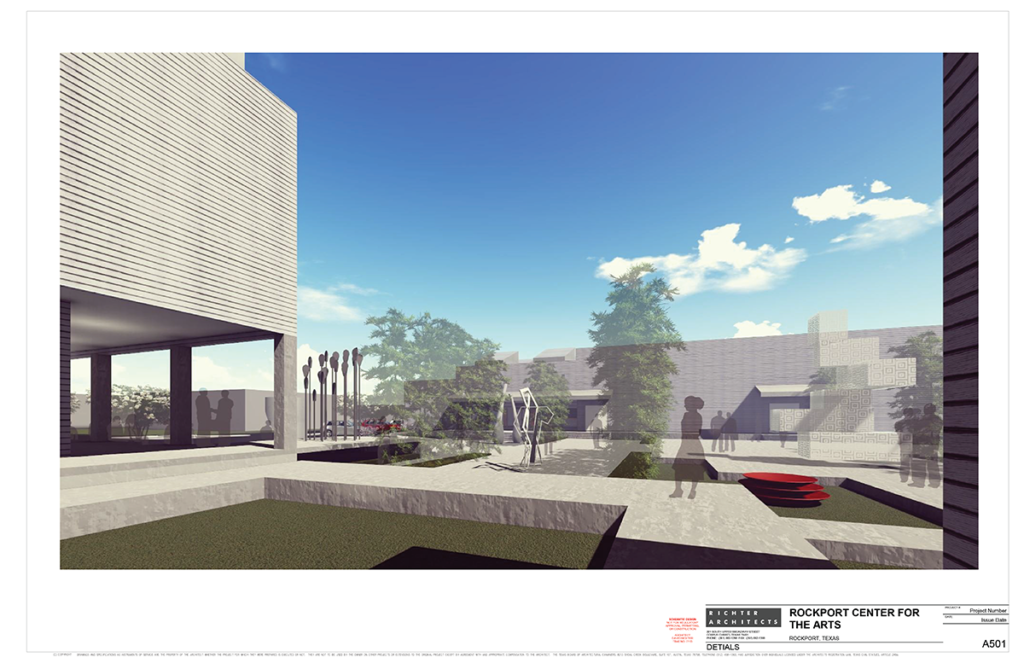 "Our new, modern facilities will allow us to expand the breadth of our programs, primarily the performing arts and the culinary arts," says Luis Purón, executive director for RCA. "These facilities will also attract business tourism to Rockport during the mid-week timeframe, something that has been lacking in Rockport's vast array of tourism offerings."
The National Cabling Service of Houston will design and install a $300,000 structured cabling system providing comprehensive telecommunications services throughout the complex, including Wi-Fi integration, state-of-the-art audio-visual capabilities, telephone service, a keycard access system and other security measures. Designed by award-winning Richter Architects, the new coastal contemporary facility features industrial indoor finishes and beautiful modern design.
"Our membership and community are eagerly anticipating the opening of the new Rockport Center for the Arts, which we have been planning for since 2014. Hurricane Harvey destroyed our original harbor front facility on August 25, 2017, nearly five years ago," says Purón. "We are thankful to the hundreds of Texas families that have invested in our community and have made a significant investment in the future of the arts in Rockport.
The new RCA is creating innovative opportunities for creatives working in the fields of visual arts, art education, performing arts, cinematic arts and culinary arts, as well as opportunities in business areas such as sales, marketing, administration, convention facility administration and destination management.
The new campus is sure to be an inspiring addition to Rockport's thriving art community for which the city is known for.