As you prepare your grocery list for this year's Thanksgiving meal, you might be looking for a bit of inspiration. Over the years, our in-house recipe developer, Kayla Butts, has curated a plethora of mouth-watering fall dishes. Whether you've been tasked with cooking the whole feast or assigned a single side, we've compiled a few of our favorite fall recipes to aid in your Thanksgiving menu preparation. From roasted pumpkin seeds to grilled artichokes, wow your holiday guests with one of these delicious dishes!
Roasted Pumpkin Seeds
Prep time: 5 minutes | Cook time: 40 minutes
Ingredients: 
Pumpkin seeds and/or large squash seeds, rinsed with pith removed
1-2 tbsp olive oil
Sea salt to taste
Directions:
Preheat oven to 250°F. Spread seeds evenly on a baking sheet. Drizzle seeds with olive oil and sprinkle generously with salt. Hand toss to distribute seasoning. Cook for about 40 minutes, stirring the seeds every ten minutes to prevent burning. Seeds are done when they are golden brown, crisp, and have a nutty fragrance.
Balsamic Beet Salad with Feta and Candied Pecans
Prepares two portions | Prep time: 20 minutes | Cook time: 45 minutes
Ingredients:
1 lb beets, cut into wedges with ends removed
Olive oil
Salt and pepper
1/2 cup pecans
1/2 tsp cinnamon
1/2 tsp salt
1/4 tsp cayenne
2 tbsp maple syrup
3 cups tender greens (spinach, arugula, chard, beet greens)
1/2 red onion, thinly sliced
1 oz crumbled feta
3 sprigs of fresh dill
Directions:
Preheat oven to 375℉. Place beet wedges on a baking sheet lined with parchment paper. Drizzle olive oil on the beets and season with salt and pepper. Roast for 45 minutes, turning the wedges over halfway through your cooking time. Let cool for 10 minutes, or until cool to the touch. 
Heat a pan over medium-low heat. Add pecans in a single layer, and cook for 3 minutes, stirring frequently. In a small bowl, mix cinnamon, salt, and cayenne. Add spice mixture and syrup to pecans and remove from heat. 
Whisk ingredients for the balsamic vinaigrette in a medium-sized bowl. To assemble the salad, layer greens and roasted beets, and top with candied pecans, onion, feta, and fresh dill. Drizzle with prepared vinaigrette and enjoy. 
For a delicious homemade balsamic vinaigrette: 1/4 cup olive oil, 2 tbsp balsamic vinegar, 1 tbsp shallot (grated), 1 clove garlic (grated), 2 tsp honey, 1 tsp dijon mustard, 1/4 tsp salt, 1/4 tsp freshly ground, black pepper
Pumpkin Risotto
Serves: 4 | Prep time: 15 minutes | Cook time: 30 minutes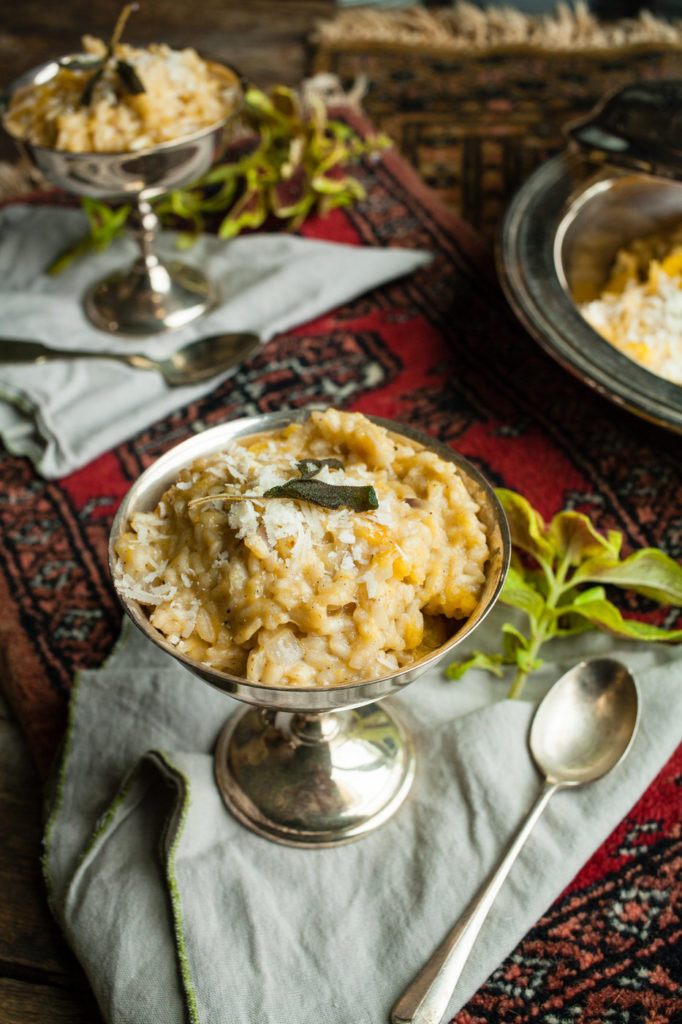 Ingredients:
2 tbsp olive oil
2 shallots, chopped
2 cloves garlic, minced
1 ½ cups arborio rice
½ cup dry white wine (recommend: vermouth or your favorite pinot grigio)
4-5 cups of homemade or high-quality chicken or vegetable broth
1 tsp salt
½ tsp freshly ground black pepper
½ tsp poultry seasoning
¼ tsp nutmeg (or about 4 grates of fresh nutmeg)
1 lb roasted pumpkin, diced
1 cup grated Pecorino cheese
Directions:
In a medium saucepan, heat stock until it begins to simmer. Reduce heat so that stock remains hot.
In a large, cast-iron, or heavy-bottomed pan, heat olive oil over medium heat. Sauté shallots for 2 minutes. Add garlic and rice, stirring frequently, and sauté until the rice begins to release a nutty flavor. Add wine to the pan, stirring to incorporate the ingredients until the liquid has mostly absorbed (for about 5 minutes).
Ladle in ½ cup broth, stirring with a non-reactive spoon until moisture is absorbed. Add another ½ cup broth and repeat the process, letting broth become absorbed until rice becomes creamy but the rice still has a small amount of bite to it. Remove from heat and stir in the remaining ingredients. Serve 1/3 cup for a side portion and 2/3 cup for a meal portion.
Grilled Artichokes with Roasted Garlic Dip
Serves 4 | Prep time: 10 minutes | Cook time: 30 minutes
Ingredients:

2 fresh artichokes
1/2 cup fresh herbs (recommended:
Rosemary, basil, oregano, or parsley)
1/4 cup olive oil, plus extra for drizzling
1 head garlic, halved width-wise
1/2 tsp salt
1/4 tsp crushed red pepper
Juice of 2 lemons
Directions:
Preheat oven to 400°F and grill to medium-high heat. Trim the tips of the leaves from each artichoke. Cut artichokes in half lengthwise, and remove the chokes. Brush artichoke and garlic halves with olive oil and season with salt and black pepper.
Place garlic on a baking sheet and transfer into the preheated oven. Meanwhile, grill artichokes for 7 minutes on the cut side. Transfer artichokes to the baking sheet that garlic has been roasting on and cook for an additional 20 minutes until artichokes and garlic are tender.
Blend garlic with herbs, olive oil, salt, red pepper, and the juice of one lemon. Squeeze fresh lemon juice on artichokes and serve with roasted garlic dipping sauce.
Apple Cherry Cobbler
Makes 1 9×11 inch Cobler   |   Prep Time: 20 Minutes   |   Cook Time: 45 minutes
Ingredients:
Filling:
3 Fuji, Honeycrisp, or Pink Lady apples, cored and thinly sliced
16 oz cherries, pitted and stemmed
1/2 cup granulated sugar
Juice of 1 lemon
1 tsp vanilla extract
1/2 tsp almond extract
1/2 tsp cinnamon
Dash of salt
Crust:
1 cup all-purpose flour
1/4 cup granulated sugar
1 1/2 tsp baking powder
1/2 tsp baking soda
3/4 tsp salt
1 stick (1/2 cup) unsalted butter, cubed
1 cup milk
Directions:
Preheat the oven to 375°F.Combine ingredients for the filling in a large bowl and stir until mixed. Oil a 9×11-inch casserole dish with butter or non-stick baking spray. Transfer the filling to an oiled dish and set aside.
Whisk dry crust ingredients together in a large bowl. Using a pastry cutter or fork, cut the butter into the flour mixture until it resembles dry oats. Add milk to the mixture and stir until a thick, lumpy batter forms. Pour batter evenly on top of the filling.
Transfer the dish to a preheated oven and bake for 45 minutes, until golden brown and bubbling. Serve warm with ice cream. 
Looking for more recipe ideas? Check out Holiday Dessert Recipes for the Season or Fall Recipes Featuring the Season's Favorite Fruit