A house's entryway should be both utilitarian and aspirational. It's where you leave shoes or drop your keys; it's also the first impression your home will make on entering guests. So, how do you achieve functionality while also leaving an impact? Using the same entryway table, stylists Katy Jones-Gulsby, Monica Benavidez, Terrie Moore and Jo Anne Howell provide their takes on the space and share their top tips on creating your own.
Joanne Howell's Design Tips:
An entryway serves as the introduction your guests have to your home. With that in mind, use this space to show off your personality with items that are meaningful to you or tell a story.
Add interest to the area with a cohesive color palette and a variety of textures. Incorporating colors and textures that complement one another will tie the space together.
Play with varying heights and depths to add interest. Display decor atop your table at different levels with items like books or stands. Place storage options under the table to keep the area clutter-free.
Get the look: Lamp, books, orchid planter, rattan basket and ball, white pedestal, candle, red coral décor piece and rug: Lisa Mayo Interiors
Terrie Moore's Design Tips:
Go big and resist the temptation to play small. If floor space is tight, hang a statement art piece or an over-scale hanging light fixture.
Greet guests with something alive. Keep a large, heavy vase filled with pebbles ready for tree branches or a palm fond you cut from your yard. Add flowers for special occasions and celebrations.
Decorate for how you live. If walking your dog is a daily adventure, keep a beautiful box filled with leashes and treats by the door. No shoes in the house? Position a chair for easy shoe removal.
Get the look: Vintage ceramic lamp, antique stool, antique teak box: BABA One of a Kind; Antique X Chair, vintage Chinese vase: Wildflowers; Nick Veasey photograph: Restoration Hardware
Katy Jones-Gulsby's Design Tips:
Large-scale art makes a big impact in an entryway — choose something with bold, vibrant color and a graphic edge. I love old posters in an entry, and these mid-century airport posters bring the perfect shot of color and style.
Vintage suitcases make great storage for under an entry table or bench. Stash throw blankets and seasonal items out of sight. Finding a matching pair is always a plus.
Scoring vintage umbrellas at vintage and thrift stores is easy and mixing them in with your modern umbrellas gives visual interest. They often come in lovely colors and patterns.
Get the look: Hourglass rattan hurricane, rattan photo frames, Amanda Lindroth: Lady Captain; Vintage suitcases and lamp: Red Crow Antique Mall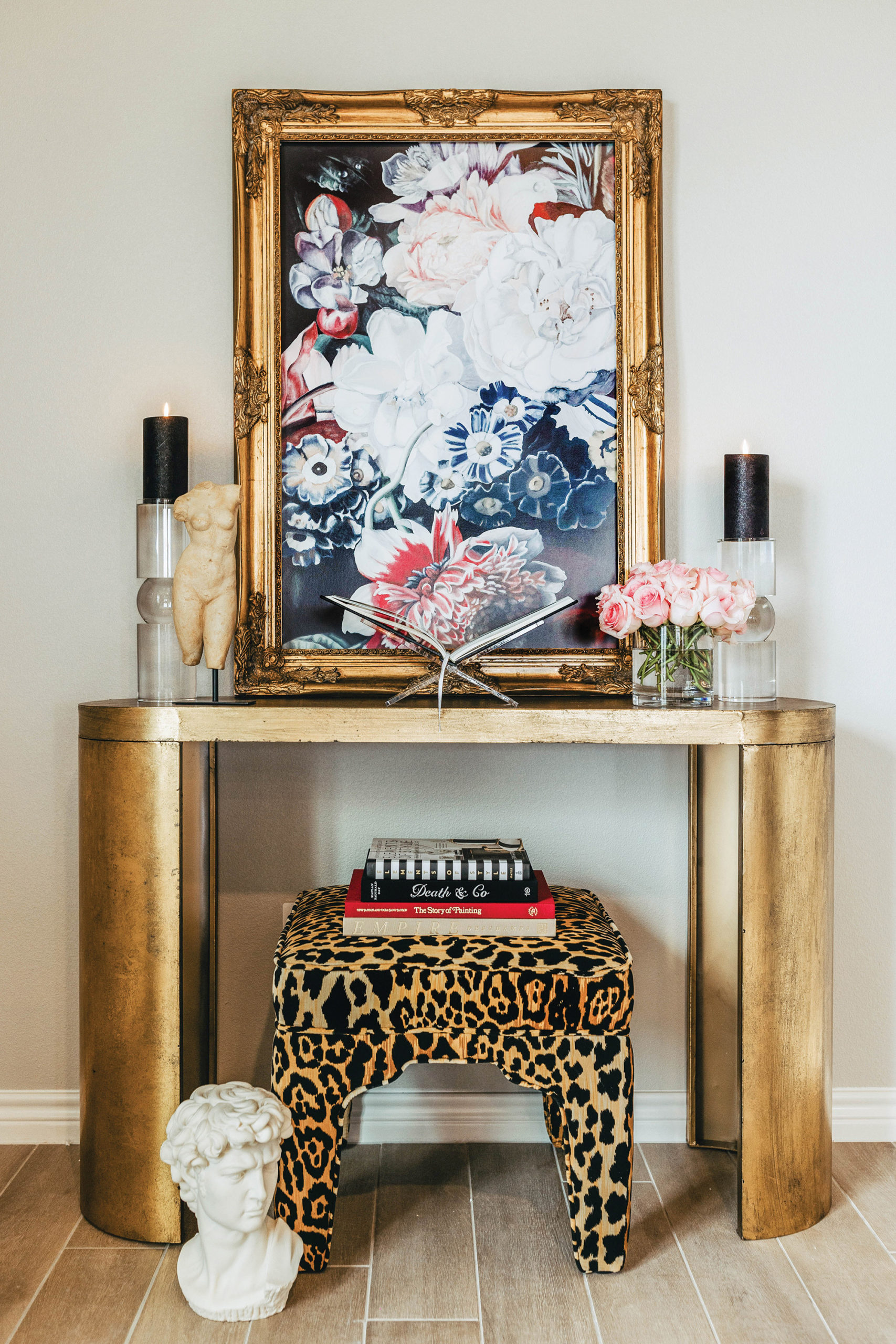 Monica Benavidez's Design Tips:
Add in décor at various heights using risers, books or even trays flipped upside down with items stacked on them.
I always recommend incorporating something live into a curated space, such as florals or a plant, for a luxe, seasonal look.
Layer in something unexpected such as leaning art, a bold ottoman or something vintage to give it a "wow" factor. Use what you have and get creative!
Get the look: Candle holders and sculpture: Chic to Chic; Dripless candles: Lucid Candle
More information:
Location London Towne Model Home, D.R. Horton Coastal Bend
Entryway table Chic to Chic