From shortages to inflation, the past few years have revealed the vulnerabilities of our food system. Despite technological and agricultural advances, our food has devolved. Our "healthiest" foods, fruits and vegetables, now contain fewer vitamins, minerals and protein than ever before. According to reporting done by Scientific American, a head of broccoli you buy from the grocery store today will have 27% less calcium, 37% less iron, 21% less vitamin A and 30% less vitamin C than one your grandfather ate 70 years ago, and it will likely have been sprayed with carcinogenic herbicides. Homegrown ingredients make for the tastiest and most nutritious garden-fresh recipes.
Ideal produce, by supermarket standards, has a thick skin that's hard to bruise, grows well in pesticide-sprayed fields and has little taste — because it was grown in nutrient-deficient soil and picked before it had a chance to ripen.
The advantages of starting a backyard garden go far beyond having access to nutritious food. Gardening only 10 minutes per day can provide enough sunshine for the daily requirement of vitamin D, an essential nutrient for metabolic and brain health. Digging in the garden can also burn up to 300 calories per hour, as much as a jog on a treadmill. Eating more plants can help you maintain a healthy weight, reduce inflammation and boost immunity.
Moreover, "horticultural therapy" has been shown to reduce anxiety, improve symptoms of depression and even lower the risk of dementia. Plant cultivators report an improvement in their emotional well-being, sense of purpose, social inclusion and overall quality of life. Gardening also fosters a sense of connection, to friends and neighbors with whom you share your garden space and bounty, and to the earth.
It doesn't take much to grow enough food for a family. Growing your own food increases self-reliance, empowering your family to be impervious to fluctuating prices and supply chain challenges. Costing around $70 at 600 square feet, the average backyard garden can produce 300 lbs of produce, or about $600 worth of groceries.
Growing your own food has a holistic effect on your wellness, improving mental, physical, fiscal and spiritual health. Working the land, savoring the fruits of your labor and sharing your harvest with the ones you love can lead to the fulfillment of your greatest self.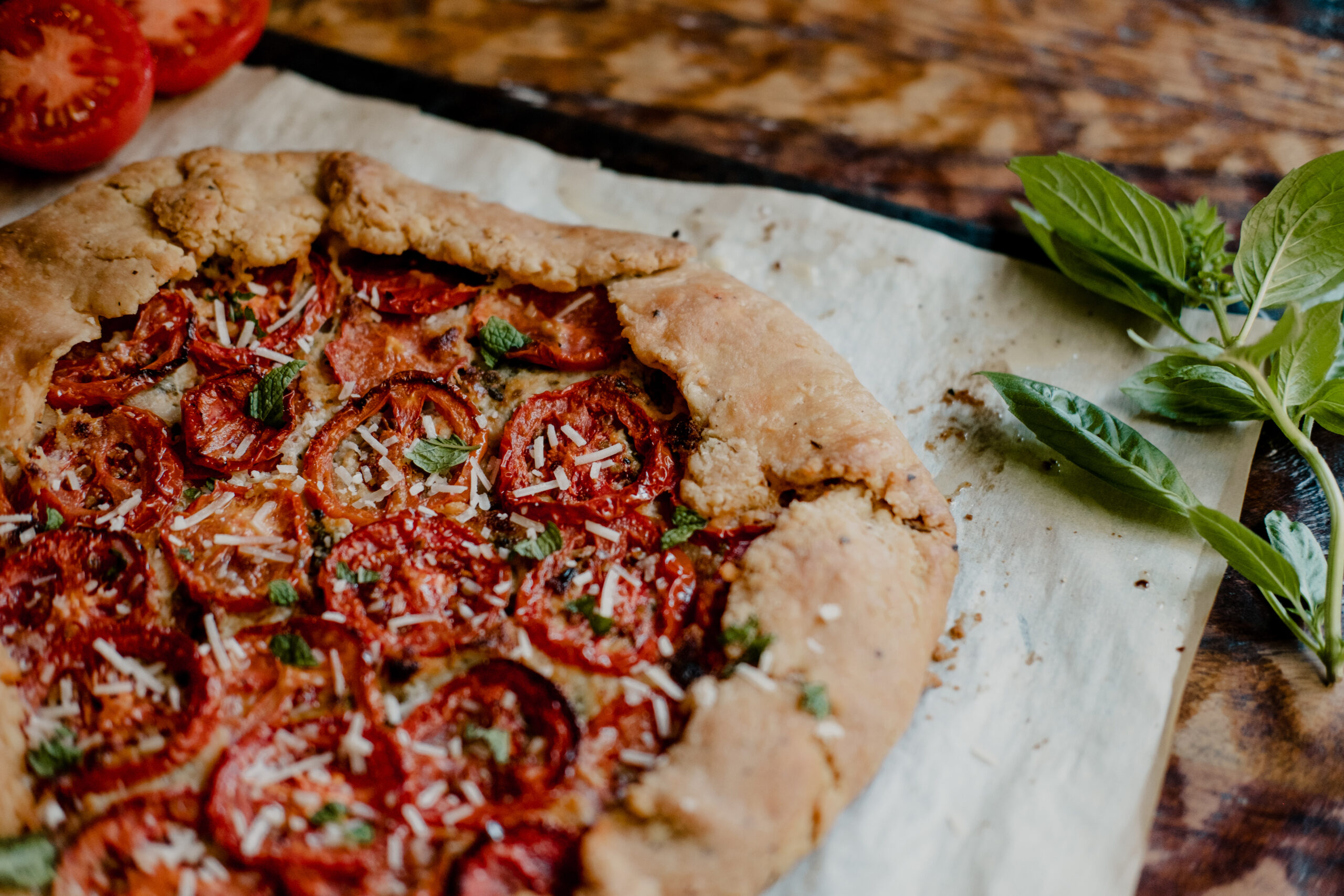 Tomato Galette
Makes 1 large pie
Prep time: 30 minutes   |   Cool time: 60 minutes
Ingredients:
Dough
2 cups all-purpose flour
1 1/2 tsp salt
3/4 tsp dried basil
1/2 tsp garlic powder
3/4 cup (1.5 sticks) unsalted butter, cubed
1/3 cup ice-cold water
Filling
1 lb tomato, sliced into 1/3" slices
1 tsp salt (for tomatoes)
8 oz mascarpone cheese
1/4 cup olive oil
2 Tbsp fresh basil, chopped
2 Tbsp fresh mint, chopped
5 garlic cloves, minced
1/2 tsp salt
1/4 tsp black pepper
1 egg, beaten
Directions:
Preheat oven to 400℉. Lay tomato slices in a single layer on a surface covered in paper towels. Sprinkle tomatoes with salt. Let tomatoes sit, while moving on to the dough.
Combine flour, salt, basil and garlic powder into your food processor and pulse for 30 seconds until mixed. Add butter to the flour mixture and pulse for another 10 seconds. Add ice water and blend a final 10 seconds until a soft dough forms. Roll dough into a large circle, about 16" in diameter. Transfer dough round to a baking sheet lined with parchment paper.
Blot reserved tomatoes with paper towels to remove the moisture that has accumulated. In a medium-sized bowl, combine mascarpone, olive oil, basil, mint, garlic, salt and pepper. Spread cheese mixture evenly across dough, leaving a 1 1/2 inch border all the way around. Top the cheese with the reserved tomatoes and fold the edge of the dough over the tomatoes, pleating the dough as you work around the pie. Brush crust with egg wash and bake for 60 minutes, until the crust is golden brown.
Strawberry Rhubarb Crumble
Makes 1 8×8" pan
Prep time: 10 minutes   |   Inactive prep time: 15 minutes   |   Cook time: 50 minutes
Ingredients:
2 cups rhubarb, diced
2 cups strawberries, chopped
2/3 cup sugar
1/4 tsp salt
1/4 cup all-purpose flour
1 Tbsp butter, melted
1 tsp vanilla extract
Crumble Topping
1 1/2 cup all-purpose flour
1 cup brown sugar
1/2 tsp cinnamon
1/4 tsp nutmeg
1/4 tsp salt
1/2 cup butter, cubed
Directions:
Preheat oven to 350. Combine the rhubarb, strawberries and sugar in a large bowl and let sit for 15 minutes, stirring occasionally. Sprinkle salt and flour onto rhubarb mixture before adding the butter and vanilla. Mix well until the rhubarb and berries are coated and the flour has dissolved. Transfer to an 8×8" baking dish.
Whisk flour, brown sugar, cinnamon, nutmeg and salt together in a medium-sized bowl. Using a fork or a pastry blender, cut in butter until mixture resembles oatmeal. Distribute topping evenly over prepared filling. Bake in the preheated oven for 50 minutes, until the filling is bubbly and the topping is golden brown. Note: Check crumble at 35 minutes and cover with aluminum foil if the outer edge of topping is already browned. Serve warm with vanilla ice cream.