As we begin to gather and attend more parties and events after two years sans entertaining, you might be ready to dip your pinky toe back into the shallow end of the hosting pool.
It's been a while, so entertaining could be a little daunting. (Who else has forgotten what it's like to have an intimate conversation in the 6-foot vicinity of another human being who doesn't live in your house?) While the conversational aspect of entertaining might seem a bit overwhelming right now, the food part doesn't have to.
One thing that doesn't seem up for debate is the popularity of the charcuterie board. It's been touted as the adult version of Lunchables© and the bringer of joy at a family gathering. The brilliance of the charcuterie board lies in its versatility and ability to suit a spectrum of taste buds.
Here's how to build a charcuterie board that will draw a crowd faster than Lady Gaga in a meat dress:
Plan 2 ounces of protein per person for an appetizer portion and 5 ounces per person for an entree portion.
Offer hearty vegetarian and vegan options like hummus, yogurt-based dips, olives, nuts or seeds.
Include soft and hard cheeses that pair well with your preferred carbohydrates (sliced fruit, seed crackers, baguette, etc.). Extra points if you include a gluten-free cracker or two.
Don't forget the condiments! Berry compote, stone- ground mustard and honeycomb are guaranteed crowd pleasers. Throw in some fresh herbs for flavor and color.
Finish the board with something salty, like spicy pickles, and something sweet, like dried fruit or dark chocolate.We're over two years into this pandemic. As a society, we're feeling more isolated than ever before. Perhaps what we are all in need of is an evening filled with good conversations, a refreshing mocktail (add in your gin of choice if you're in the mood for a stiff one), and a board for grazing to help lift our spirits. Just a suggestion: Start with a question about your guests' recent projects and interests before escalating to worldwide events and gas prices.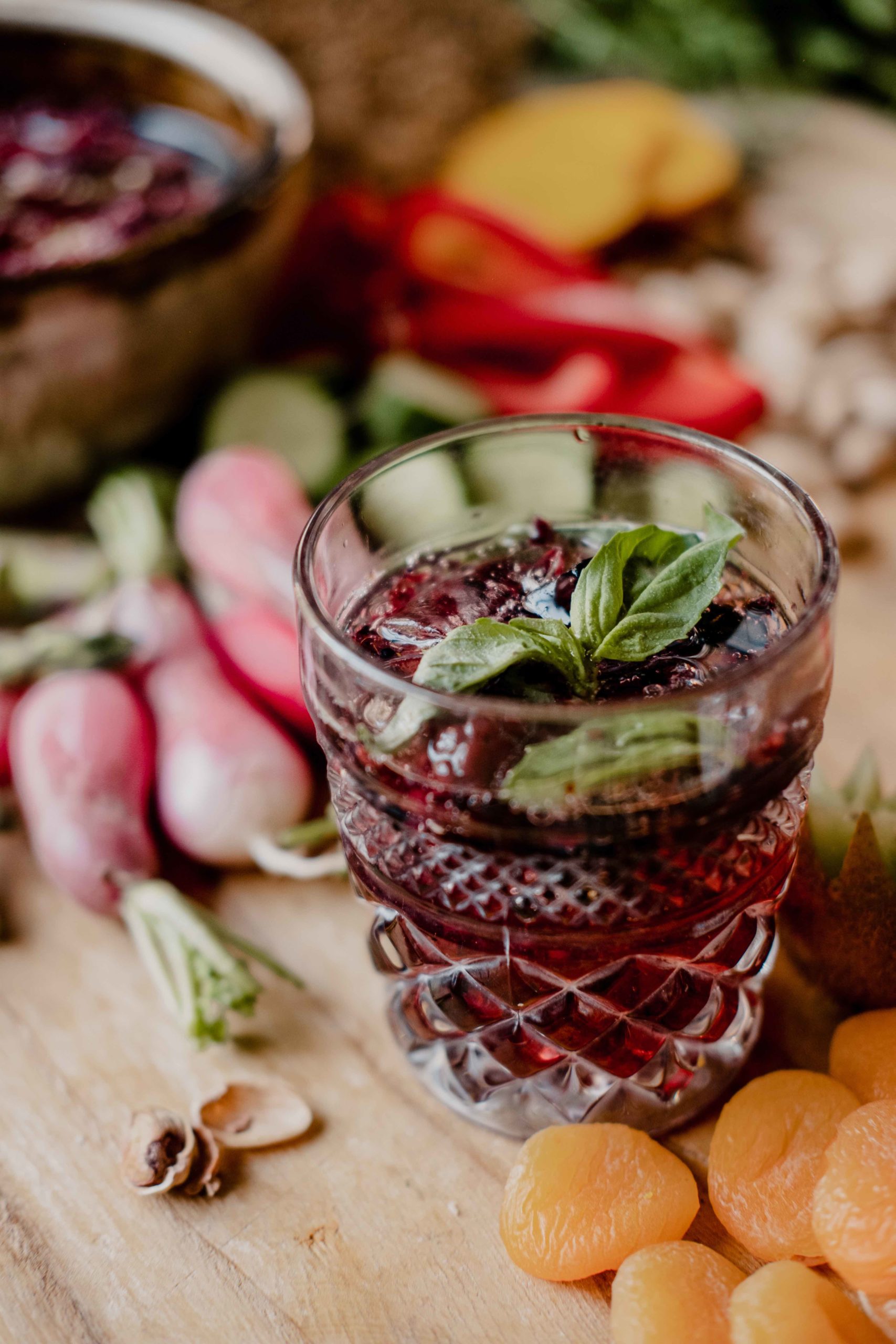 Berry Herb Shrub
Prepares two 8oz portions
_______________________
PREP TIME: 5 minutes
COOK TIME: 5 minutes
INGREDIENTS:
4 oz berries
2 sprigs fresh herbs
1/4 cup sugar
1/4 cup white wine vinegar
8 oz sparkling water or club soda
DIRECTIONS:
In a small saucepan, combine sugar and 1/4 cup water over medium heat. Whisk mixture until sugar dissolves, about 3-4 minutes. Remove from heat and transfer to heat-tolerant container and place in the freezer.
Pull herb leaves off the stem and add them to the bottom of a pitcher. Add the berries to the pitcher and macerate with the back of a fork or a small whisk. Add vinegar and cooled simple syrup to the pitcher. Fill two old fashioned glasses with ice. Divide the berry herb mixture between the two glasses and top them off with sparkling water. Enjoy immediately.
Beet Hummus
Serves 6 appetizer portions
_______________________
PREP TIME: 15 minutes COOK TIME: 25-35 minutes
INGREDIENTS:
3 beets, scrubbed with tops removed
8 ounces canned chickpeas (recommend organic) 1/2 cup fresh cilantro, parsley or dill
3 cloves garlic
1/3 cup olive oil
1/3 cup tahini
1 lemon
1 tsp za'atar
1 tsp salt
DIRECTIONS:
Preheat oven to 375. Season beets with salt and pepper and coat them with olive oil cooking spray. Roast beets until fork tender, about 35 minutes. Remove from the oven and let cool.
Meanwhile, combine remaining ingredients in a blender or food processor. Add beets once they are cool enough to handle. Blend on high, scraping down the sides on occasion, for about 5 minutes, until you obtain a creamy, smooth texture. Serve with crudites, crackers or bread.
Baked Brie
Serves 6 appetizer portions
_______________________
PREP TIME: 3 minutes COOK TIME: 15 minutes
INGREDIENTS:
1 wheel of brie
2 tbsp honey or preserves
2 sprigs of thyme, rosemary or basil 1/4 cup chopped roasted nuts
DIRECTIONS:
Preheat oven to 350. Place brie wheel in an oven-safe pan lined with parchment paper. Bake for 15 minutes, until brie is very soft.
Transfer brie to your charcuterie board and top with honey or sweet or savory preserves, fresh herbs and nuts of your choice.