Over the last few years, the restaurant industry has been forced to adjust, adapt and overcome. New business models, operations and menus were created by innovative restauranteurs aiming to keep their doors open amid a pandemic. Now, dining rooms are filled to the brim, reservations are required and we're reminded that bold flavors are in abundance in the Coastal Bend. From new spots opening up to tried and true staples that never let us down, the food scene is anything but scarce.
With that in mind, we've compiled a list of local eateries you need to try. To help us narrow down the list of recommendations, we put out a call to a few of our foodie friends. Comprised of Coastal Bend influencers with their fingers on the pulse of local cuisine to a Le Cordon Bleu-trained chef, our "Foodie Panel" knows a thing or two about the local dining scene.
After our panel submitted their list of recommendations in varying categories, our editorial staff cross-referenced each list with our own, resulting in the almost two dozen recommendations within this feature. Contents herein include the best bone-in ribeye in town; the only 100% locally sourced burger in the city; new restaurants you have to check out; food trucks we swear by; the inside scoop on a few new spots opening this year; and much more. If your stomach isn't already growling, you'll surely be ready to eat by the time you finish reading.
Cowboy Bone-In Ribeye
Ol' Steakhouse
"The best bone-in ribeye in town. Period." Our foodie panel doesn't mince words. Made famous for its succulent steaks, Ol' Steakhouse attributes its success to cooking those steaks over the open flame of a mesquite grill. Ribeyes are hand-cut in-house, and simply dressed with seasoning salt and a pad of butter, letting the mesquite smoke flavor shine through. We like ours with rosemary gorgonzola butter and a side of quail.  4307 Avalon St. 
Flatfish with Thermidor or Provencal Sauce
The Lookout at Bluff's Landing
Flaky, melt-in-your-mouth flatfish is paired with a sauce of your choice at The Lookout. (Spoiler alert: they're both amazing.) A French classic, Thermidor starts with creamy bechamel and an acidic kick from house-made creole mustard. The Provencal sauce is a bright tomato sauce with herbaceous notes of lavender and thyme from Herbes de Provence. Served with roasted potatoes and broccolini, this dish is perfectly satisfying. Not one for fish? Try the oysters or bone-in pork chop with grits and greens, also a star of the seasonal menu that's updated every few months.  4242B Laguna Shores Rd.
Grilled Octopus
Elizabeth's
It's date night, and you need the perfect meal at the perfect place. Look no further than the Grilled Octopus at Elizabeth's. Served at dinner on Friday and Saturday only, this octopus is marinated in rosemary, thyme, lemon and peppercorns, then cooked sous vide six to seven hours, until it's crispy on the outside, tender on the inside. It's served with citrus saffron aioli, along with fingerling roasted potatoes, and garnished with capers and pickled shallots. This meal is an absolute touchdown.  1902 N Shoreline Blvd.
Mexican Bananas Foster Pancakes
Coral Bean Café
Think you know pancakes? Not until you've tried these pancakes. Coral Bean Café's fluffy flapjacks are richer and nuttier, thanks to freshly milled wheat and clarified butter. Top them with flambeed Dominican bananas, infused with piloncillo, rum and cinnamon, and time stops. If that delectable combination doesn't tickle your taste buds, squeeze on a little lime juice (they're not just a garnish) to add a touch of acidity that complements and cuts through the buttery sweetness.  7426 S Staples St #107 
Blackened Redfish with Poblano Crawfish Cream Sauce
Doc's Seafood and Steaks
We've got just the place (and the dish) to help you Escape-Relax-Enjoy. That's the motto at Doc's, and its perfectly blackened redfish topped with to-die-for poblano crawfish cream sauce is a Coastal Bend staple. The creamy sauce — with roasted poblano peppers, fresh lime juice, just enough garlic and crawfish tail meat — will have you shamelessly licking your plate. Paired with seasonal veggies and rice pilaf, this dish can only be made more satisfying with Doc's popular Tidal Wave Mojito. 13309 S Padre Island Dr.
Tom Yum Seafood
Nom's Kitchen
Nom's Kitchen is passionate about bringing freshly prepared, authentic Thai food to the Coastal Bend. Its top-notch service is upstaged only by flavor and aroma. The Tom Yum Seafood, a fan favorite on the menu, combines Thai spice and sour soup with shrimp, scallops, squid and mussels to create a savory Thai seafood medley. Mushrooms, onions, Thai herbs and cilantro round the dish out perfectly. Opt for the smaller portion to save room for an exploration of the rest of the menu. 13923 S Padre Island Dr.
Wood-Grilled Oysters
Water Street Oyster Bar
The perfect start to a seafood feast, an order of Water Street Oyster Bar's wood-grilled oysters is hard to beat. Cooked over a mesquite fire and filled with smokey paprika butter, this appetizer is so good, you might just find yourself canceling the rest of your order and making it your entreé. As one of our Foodie Panel members so perfectly put it, "shareable items aren't always fun to share."  309 N Water St.
The Barbie
Boarri Craft Butchery
If you're searching for a new, quick lunchtime delight, look no further. Local butcher shop Boarri Craft released its first menu late last year and the crowd went wild. Meet The Barbie, Boarri's take on a Wurst Burger. A flavor-packed cheddar wurst is housed between toasted bread with housemade burger sauce, lettuce, tomato, onions and beef bacon bits on top. Make it a Wurst Box combo for a bag of chips and a soda. 817 S Staples St.
Tempura Broccoli
Vietnam Restaurant
We challenge any and all readers who dislike broccoli to try an order of Vietnam's tempura broccoli appetizer. Enhanced with butter and sea salt, the black pepper-fried flowering heads and stalks are tossed in a wok with onions, garlic and bell peppers, resulting in a dish so good you'd have no idea you're eating one of the most disliked vegetables out there. 701 N Water St.
Nigiri
Dokyo Dauntaun
A meal at Dokyo Dauntaun is similar to a choose-your-own-adventure book. Regardless of the route you take, you're sure to end up in a delightfully satisfied place. We recommend starting off with the Nigiri portion of the menu and selecting the O-Toro, a buttery tuna, and the Chu-Toro, a more fatty tuna, both placed atop vinegar rice. The only possible way to make this order even better is the addition of Uni, the edible part of a sea urchin with an umami profile and melt-in-your-mouth texture. 424 N Chaparral St.
Prime Steakhouse and Whiskey Bar
Southside's newest hotspot, Prime Steakhouse and Whiskey Bar, offers patrons much more than its namesake. Four years in the making, this is the third food concept brought to South Texas by renaissance entrepreneur Antonio "Tony" Gonzalez, Jr, who began as general manager for a local restaurant before owning and operating Top Choice Catering for the last 12 years. He introduced the "Flamin' Grills" food truck over two years ago while forming the blueprint for the steakhouse.
"Food has always been a passion," reflected Gonzalez Jr. standing next to the impressive floor-to-ceiling mesquite bar. Exceptional steaks aside, Prime features a revolving menu of fresh fish and chef's choice game, like nilgai, bison and wild boar. Stop by for lunch and try Tony's Steakhouse Burger made just the way you like it, plus smoked brisket and short ribs.
We couldn't choose just one cocktail from the drinks list, and insist you try the Pineapple Paloma and the Omar Old Fashioned. The rustic elegance of Prime Steakhouse and Whiskey Bar is perfect for an intimate party of two or a cocktail hour with coworkers. Delicious food in a beautiful setting; what more can we ask for? 6326 Yorktown Blvd. Ste 2.
Nueces Whiskey Library
The latest dining and entertainment concept from chef Francesco Inguaggiato does not disappoint. With a killer happy hour featuring an extensive list of thoughtfully curated liquors, beer and wine, Nueces Whiskey Library is our new go-to watering hole.
Sure, the ambience is top notch — emerald paneled walls, substantial crystal chandeliers and a dignified library style British nobility might love. Italian native Inguaggiato elaborates on what's working well at his established flagship, Bellino's. He continues to wow with dishes like his arancinette, chicken breast with a portobello mushroom whiskey sauce and tiramisu al bourbon.
NWL's signature cocktail list is an all-star lineup of old and new favorites. We recommend Children of the Corn for bourbon enthusiasts and Anastasia Gray for more health-conscious visitors. And for personal and professional reasons, we keep coming back to the Writer's Block. No matter what your mood — wine and charcuterie, dinner and drinks, cocktails and dessert —Nueces Whiskey Library is the place to dine. 3827 S Alameda St.
Central Kitchen
Perhaps the most surprising aspect of downtown's newest bakery is that it's been around for almost two decades. The dream team behind Central Kitchen has been working behind the scenes making the staples you love at Water Street Oyster Bar and Executive Surf Club since 2004. These kitchen workhorses became mainstays of the Lomax restaurant system and ultimately filled the only gap in their network – breakfast. But that's not the only facet of Central Kitchen that differentiates it from its downtown neighbors.
"French-trained chefs servicing an oyster bar, a burgers and beer joint and a Mediterranean tapas-style restaurant; we have such a broad palette to play with," said executive pastry chef Jeannette Hernandez. The many creative talents of the group are evident in artisan breads, elegant pastries and addictive home-baked goods of all kinds. The cinnamon rolls alone are enough to make this a regular morning pitstop.
Referring to the retro vibe felt inside the bakery's walls, "we kept coming back to the approachability and warmth of classic Americana style bakeries," shared Hernandez. "We deeply value and cherish our years of history with the city, as well as the historic nature of our downtown buildings." From the cozy vintage booths to the perfect sourdough boule, every detail was carefully curated for an exceptional dining experience at Central Kitchen. 320 Lomax St.
Roaming Ronin
Former Navy man turned Escoffier graduate turned sushi chef Edward Warren Jr. brings his soldier-like precision to diners in South Texas. Stationed in Japan for over a decade, Warren Jr. fell in love with Japanese food and Asian culture, but the idea of Roaming Ronin (originally a food truck, hence the Roaming) was little more than scribbles on a few scraps of paper until Warren Jr. partnered with long-time friend and Flanagan's owner Robert Garcia.
Warren Jr. spent five months sleeping on Garcia's floor while he transformed a neglected space into the current home of Roaming Ronin. Taking its name from a Japanese term for a samurai who has lost his master and is thus destined to live as a vagrant mercenary, the restaurant greets customers with striking colors and an evocative floor-to-ceiling mural of a samurai. It's an intimate space, where diners can watch Warren Jr. wield his chef knife from the bar or from one of the four tables in the dining room.
First-timers should start off with the Tempura Brussels Sprouts topped with parmesan cheese and spicy Ninja sauce, graduating to the Ronin Beef Bowl, a classic Japanese dish. Roaming Ronin is the joint we never knew we needed. 2306 Airline Rd. STE 104
Odi's Pizzeria Napoletana
Three words: Traditional Neapolitan pizza. Odi's is making some of the best pizza in town thanks to its mobile brick oven. The menu includes the classic Margherita — complete with crushed San Marzano tomatoes, Fior de Latte cheese, olive oil and basil leaves — while also offering options for the traditional Italian street-food sandwich, Panuozzo.
Fatty's Third Coast
The Banh Mi Fries alone make this kitchen on wheels a top choice. A perfectly crisp bed of fries lies underneath fried pork belly with pickled carrots, cucumbers and daikon radish. Then, a drizzled layer of mayo and sweet and spicy gochujang sauce brings even more flavor to the dish, while cilantro acts as the cherry on top at Fatty's Third Coast.
The Most Comida
The powerhouse duo of Adam Langenkamp and Rick Santana is bringing fresh menu items, self-described as "comfort street food," to the existing lineup of local mobile eateries. One of their most popular items is the Rick Rolls with the Most Sauce: The meat and cheese mixture, wrapped in a tortilla and fried, then topped with salsa, is rocking tastebuds, and won't let you down or make you cry — it's never gonna. 361-296-5667
Loli's Streatery
Sisters Sarah Flores and Sabrina Lozano have brought a whole new meaning to the concept of a loaded corn bowl. The signature dish has a Mexican street corn base with avolantro (a creamy avocado cilantro sauce so good you could drink it), chipotle crema, queso fresco, cilantro leaves and lime. Protein options include shredded chicken and grilled shrimp, though we recommend opting for the marinated asada.
Tacobar Street
The Corpus Christi food truck OG. You know it, you love it, you voted it the best Food Truck in the annual Local's List readers' choice poll seven years in a row. No one does street tacos like Tacobar Street. While fans eagerly anticipate the opening of the operators' first brick-and-mortar location, chowing down on anything from the truck's menu is sure to tide you over.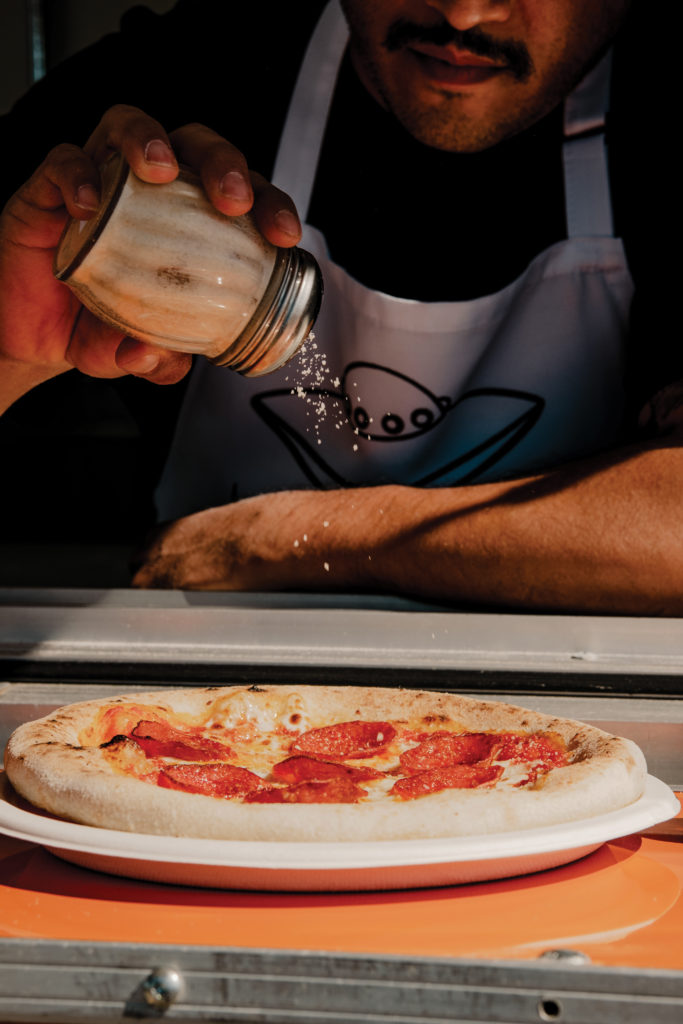 Marty McPies
A combination of flavors owner Martin Flores fell in love with while traveling and working the railroad, Marty McPies serves up a pie all its own. A "Neapolitan style with a Marty twist," this pizza base combines a sweet, tangy sauce with a hint of spice. Though his pies are thin, the crust manages to contain a fluffy texture unlike anything else. The prosciutto pie is our personal favorite.
Papa's Lumpia Hut
When ordering lumpia from this popular truck, you're in for a thin, paper-like pastry skin delicately enveloping savory greatness packed with flavor. Papa's Lumpia Hut brings hungry patrons the choice of beef with veggies, chicken or pork lumpia. Take a taste of the whole menu by ordering Papa's Plate — complete with pancit, two lumpia rolls of your choice and two crab rangoon. No matter how full you are, you'll want to finish things off with an order of the Asian Donuts.
Hurb's Burgers
Those who've lived in Corpus Christi for quite some time understand just how important Hurb's is to local burger lovers, and for good reason: No one else makes a double cheeseburger quite like this. Two thin patties with perfectly crimped edges are the star of the show, aided by cheese, a bun…and a healthy dose of that secret sauce. The best things in life are often the simplest, and Hurb's understands this well. 361-438-1957
Full Send Barbecue
If you've found yourself at The Gold Fish bar lately, you've probably encountered Full Send BBQ in all its smoky, savory glory. Inspired by his family and desire to share his love and knowledge of BBQ with everyone, Andrew Pena has mastered the technique of true South Texas mesquite-smoked craft BBQ, seasoned with only salt, pepper and garlic. Thanks to the success of the pop-up, as of mid-February 2023, locals will be able to frequent the new downtown brick and mortar location, with an expanded menu to include unique scratch-made sides such as Puerto Rican rice and broccoli slaw, in addition to existing stars like brisket birria tacos and brisket mac n cheese empanadas. The new location will bring new experiences such as an annual pig cookout and more space to gather, but always with the same "quality, consistency and Full Send product," said Pena.   411 Taylor St.
Gabriela's
In a familiar location near the waterfront in Rockport, Gabriela's (formerly Glow Rockport) is a completely new dining concept projected to open in the summer of 2023.  After gaining inspiration from owner Sara Humpal's late mother, Gabriela, the restaurant will be an ode to her "welcoming, vibrant, fierce and unique" personality. The menu will feature an array of seafood dishes with unique flavor pairings and combinations. Humpal has been busy at work hiring culinary and design creatives alike to provide patrons with a dining experience worthy of "making beautiful memories with friends and family" right in the heart of Rockport, TX. 1815 Broadway St., Rockport, TX
Cocktails & Tastybites
After five years of providing locals with delectable cocktails and atmosphere, BUS is expanding its reach to include a permanent restaurant concept on the back porch named Cocktails & Tastybites. Inspired by a 1930s recipe book of the same name, Lesley and Ben Lomax are making their restaurant dreams come true. Since the Lomaxes have enjoyed having different food trucks on rotation, they figured it was time to add something permanent for their customers. This concept will focus on cocktail and food pairings focused on "quality ingredients scaled up in a casual and approachable atmosphere," said Lesley. "The menu will be fairly small, with the goal being that each item inhabits its own niche, from hearty to light and from individual to group dishes." As of March 2023, locals will have even more reason to frequent BUS and stay a while. 702 Chaparral St.