Famed as a winter wonderland, the iconic Colorado mountain town of Aspen is just as prized in the fall, when its namesake trees erupt into a golden hue. Cooler, cozier temperatures make for a comfy post-summer escape, preempting the winter tourism season in a town that's typically relaxed during the fall months. Filled with shops, restaurants, festivals and historic sites, there's no shortage of autumnal action to be had in Aspen.
Stock up on fall produce: Held annually until early October, the Aspen Saturday Market is an edible showcase for Colorado farms and artisans. The massive downtown market, which runs through Oct. 7 this year, features the freshest local sundries. In fall, that means apples aplenty, along with jams, meats, breads, gourds, sweet potatoes and much more. 
Float high above the foliage: The Aspen area is awash in stunning foliage from September through October, and there's no better way to witness it all than from the basket of a hot air balloon. The annual Snowmass Balloon Festival, held Sept. 22-24 this year, is an awe-inspiring experience that sees more than 30 decorative balloons soaring through the mountain valley over a sea of lustrous flora.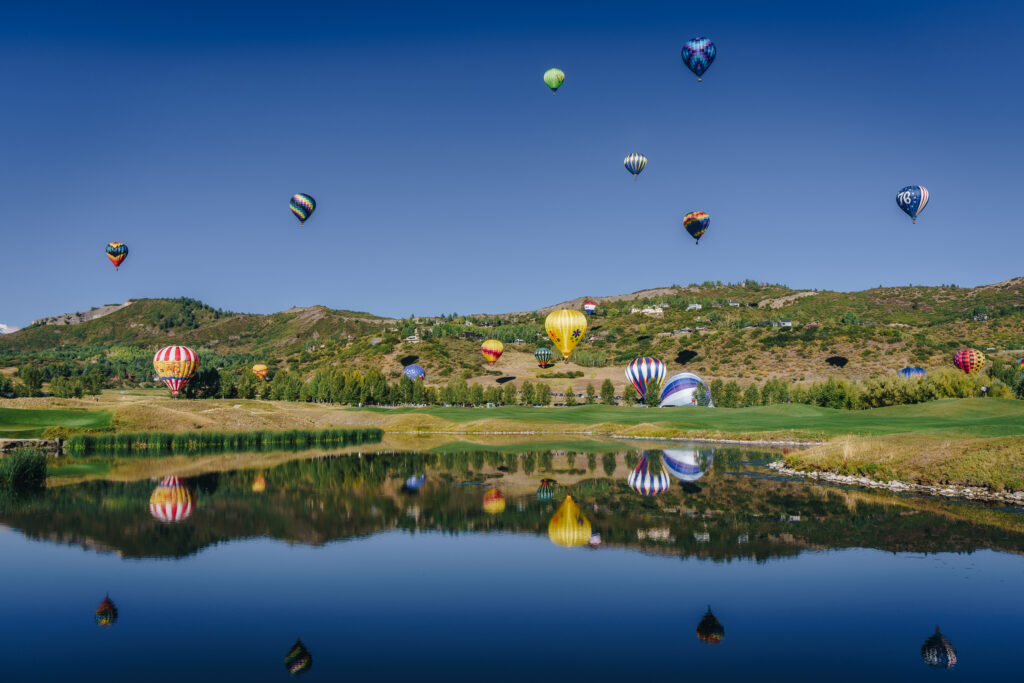 Pair luxury with lore at the Hotel Jerome: Open since 1889, the decadent Hotel Jerome is as historic as it is ornate, seamlessly blending Wild West vibes with contemporary amenities (ahem, antler chandeliers). The Main Street property boasts a chic spa, American bistro fare at Prospect restaurant and cocktails at J-Bar, a neo-saloon known for its bourbon. 
Indulge in Alpine comfort food: Whisk your tastebuds to the Alps via French Alpine Bistro, a rustic restaurant that's just as charming and cozy as the name implies. The dining room, with its wood- and fur-clad motif and flickering candles, is just as comforting as the cuisine, which includes classic — and unabashedly buttery — French fare like escargots, moules mariniere, boeuf Bourguignon and coq au vin, along with Alpine specialties like Raclette cheese melting over potatoes. 
Go mountain biking through the woods: The Aspen area is as revered for mountain biking as it is for snow, and fall is the prime time to zoom down the trails in style. The Roaring Fork Valley, in particular, was designated a Gold-Level Ride Center, which means Aspen and Snowmass offer 300+ miles of biking trails for every level of expertise, along with the Snowmass Bike Park and the 42-mile Rio Grande Trail connecting the two towns.
Embark on a pre-winter hike: Around here, snow doesn't descend until November, which means hiking trails beckon for most of the season. An apt way to fully immerse yourself amid the gilded aspen groves, trails come in all different lengths and difficulty levels, like the 3.5-mile Crater Lake Trail that culminates at a mirror-like lake reflecting Colorado's mightiest mountains in the background.
Cast a line in the river: For a unique autumnal experience, pull on some waders and go fly fishing. From both the Fryingpan and Roaring Fork Rivers, fall is high season for rainbow trout and brown trout — an experience made all the more magical by the fact that you're surrounded by a sea of vibrant trees.
Go on a shopping spree: For a small mountain town, Aspen boasts a dynamic shopping scene on par with much more metropolitan cities. In addition to outdoorsy brands like Patagonia and Lululemon, and high-end retail like Gucci and Prada, boutiques include Maison Ullens for women's fashion, Cos Bar for soaps and fragrances, Little Bird for vintage finds and Testosterone for men's apparel.
Dig into some soulful stew: The onset of fall means an uptick in comfort food cravings, which makes The Stew Pot destination number one. A longstanding, iconic restaurant in Snowmass, the homey eatery specializes in hearty stews like old-fashioned beef and habanero pork, along with sandwiches, burritos and a full slate of craft beers. 
If you can't schedule in an out-of-state trip this season, consider taking an epic fall foliage tour through the Lone Star State with our Texas Fall Foliage Guide.