School is back in session, and that means weeknights just got a whole lot busier! With piano lessons, baseball practice, after-school tutoring and everything in between, getting dinner prepared Monday through Friday can sometimes cause a bit of stress. Because of this, we're compiling a few tried-and-true recipes for 30-minute meals from our Farm to Table curator Kayla Butts, MS, RDN, LDN.
Chicken Linguini With Sun-dried Tomatoes and Arugula
Serves: 4 | Prep time: 5 minutes | Cook time: 25 minutes
Ingredients:
1 lb dried linguine
3 tbsp butter
2 tbsp olive oil
2 lbs boneless, skinless chicken thighs, roughly chopped
Salt and black pepper, to taste
4 garlic cloves, minced
6 oz mushrooms, sliced
1/4 cup sun-dried tomato, chopped
1/2 cup heavy whipping cream
1 1/2 cup arugula
Parmigiano Reggiano shavings and red pepper flakes (optional)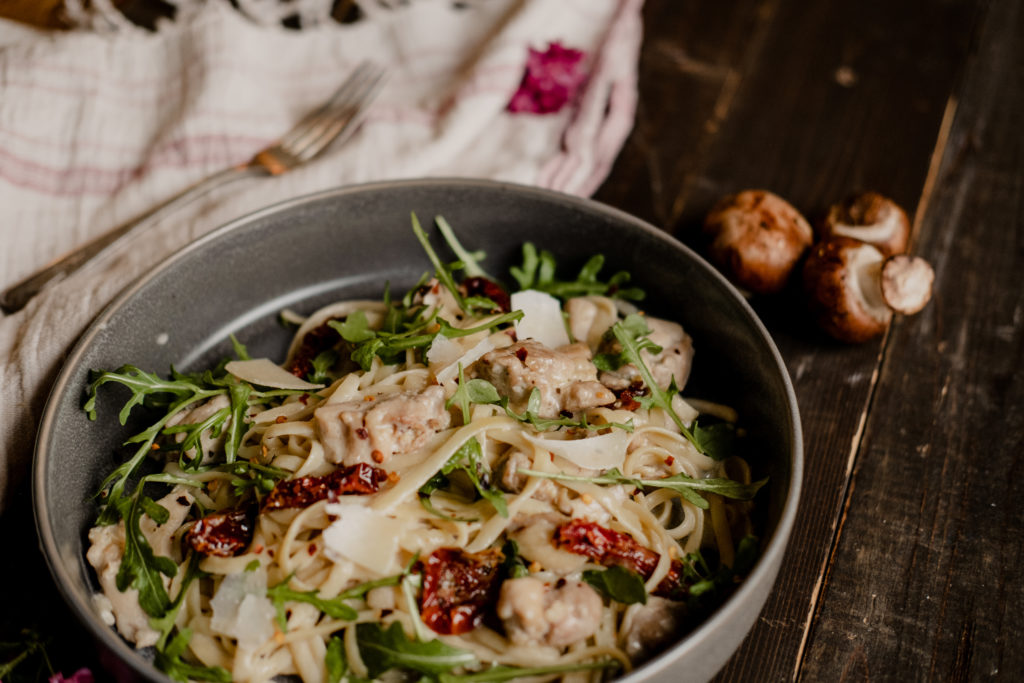 Directions:
Place a large pot of salted water over high heat. Once the water is boiling, add linguine and cook for 12 minutes or until al dente. Strain and set aside.
Meanwhile, add butter and olive oil to a large saute pan over medium heat. Once the butter has melted and started to bubble, add chicken thighs and season with salt and black pepper. Cook for 2 minutes, stir chicken, then add garlic and mushrooms. Continue to cook, stirring mixture occasionally, until chicken and mushrooms are golden brown and garlic is fragrant. Add in tomatoes and heavy whipping cream, cooking for an additional two minutes, until the cream has begun to thicken.
Remove mixture from heat. Add cooked linguine into the chicken mixture and toss to combine. Stir in fresh arugula and top with Parmigiano Reggiano and red pepper flakes prior to serving.
Ground Beef Tacos
Serves: 4 | Prep time: 15 minutes | Cook time: 20 minutes

Ingredients:

2 tbsp vegetable oil
1/4 large yellow onion, minced
2 tbsp garlic, minced
1 lb grass-fed ground beef
1 tbsp chili powder
1 tsp cumin
4 oz tomato sauce
Salt and pepper, to taste
8 6-inch corn tortillas
Optional toppings: shredded Monterrey jack cheese, diced tomatoes, sliced avocado, dollops of sour cream, chopped cilantro, shredded lettuce, sliced onion or spoonfuls of pico de gallo
Directions:
Preheat oil in a large sauté pan over medium heat. Once the oil is hot, add onion and sauté for 3 minutes, until fragrant and turning translucent. Add garlic and stirring frequently, cook an additional 30 seconds. Add remaining ingredients and continue to cook, breaking beef into smaller morsels, until no pink remains.
Lightly char tortillas (about 1-2 minutes on each side) in a dry cast iron skillet over medium-low heat. Serve filling in a warm tortilla with desired topping(s).
Sweet and Sour Cauliflower
Serves: 4 | Prep Time: 5 minutes | Cook Times: 25 minutes
Ingredients:
3/4 cup avocado oil
1 head cauliflower, cut into bite-sized pieces
1/4 cup cornstarch
1 tsp fine salt
1/2 tsp garlic powder
1 white onion, cut into 1" pieces
1 red bell pepper, cut into 1" pieces
1 green bell pepper, cut into 1" pieces
1 cup pineapple chunks, canned with juices reserved
1/2 cup brown sugar
1/4 cup tomato paste
3 tbsp apple cider vinegar
2 tbsp soy sauce
2 cloves garlic, chopped
Directions:
Heat avocado oil in a large frying pan over medium-high heat.
Whisk together cornstarch, salt and garlic powder in a shallow bowl. Toss and coat cauliflower in cornstarch mixture. Test oil by adding a little cornstarch into the frying. It's ready for the cauliflower once the cornstarch immediately starts to vigorously bubble when introduced to the hot oil. Fry cauliflower on each side for 3 minutes, until golden. Remove with a slotted spoon and transfer to a paper-towel-lined plate.
Discard all but approximately 1 tbsp frying oil remaining in the pan. Add in onion and bell peppers, sautéing for 2 minutes, stirring frequently.
Meanwhile, prepare the sauce in a separate bowl by whisking together pineapple juice, brown sugar, tomato paste, vinegar, soy sauce and garlic. Add sauce, pineapple chunks and prepared cauliflower back into the pan. Cook an additional 2-3 minutes until the sauce starts to thicken. Serve hot with steamed rice.
Editor's Note: Recipes were originally published in the March 2022, March 2021 and April 2022 print issues of The Bend. For more recipe ideas, check out Three Spice-Filled Recipes with the Peppers of Summer.